Sterling College recognizes 2021 Marketplace Excellence Award Winners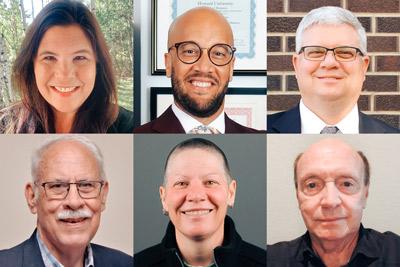 Tuesday, October 26, 2021
Sterling College recognized its latest class of Marketplace Excellence Awards Winners during its 2021 Homecoming Weekend. 
The Excellence in Business Award was awarded to Heather McCreery '90, the Excellence in Ministry Award was awarded to John Molina-Moore '05, the Entrepreneurial Excellence Award was awarded to Carroll Long, Jr. '89, the STEM Distinction Award was awarded to David H. Leebrick '69, the Excellence in Scholarship Award was awarded to Emma Bailey '91 and the Excellence in Education Award was awarded to Kenneth D. Killian '67.
The Excellence in Business Award recognizes a Sterling graduate who has distinguished themselves in the business field while also integrating Christian values and servant leadership principles and ethics in the marketplace. 
Heather McCreery is the chief financial officer of Rocky Mountain Institute, an international leader in catalyzing the transformation of the global energy system. She is leading finance and operations to support fourfold growth of the organization.
Before joining RMI, Heather served as chief financial officer for Wall Street on Demand, a financial information services firm based in Boulder, Colo. Along her career path, she served in various capacities in finance, human resources, and strategic planning in the industries of commercial real estate, energy, technology, international ministry, and with the United States Olympic Committee.
Heather McCreery is a 1990 graduate of Sterling College, where she studied Business and Accounting and graduated Summa Cum Laude. While at Sterling, Heather was a member of the tennis team and the choir, for which she frequently provided piano accompaniment. She is the granddaughter of William M. McCreery, Sterling's longest serving president, presiding over the College from 1946-1973. She also holds a Master of Business Administration from Warwick Business School in Coventry, UK.
Heather has served on the Sterling College Board of Trustees for 21 years, and has volunteered at numerous organizations, including Rocky Mountain National Park and the US Olympic Academy for Youth. She resides in Estes Park, Colo., with son Micah, daughter Kylie, and husband, Scott Carter '88.
The Excellence in Ministry Award recognizes a Sterling graduate who has distinguished themselves through service and leadership in the church, missions or a ministry-related organization.
Rev. John Molina-Moore is the General Presbyter of the National Capital Presbytery.  National Capital Presbytery is the governing body for 103 PCUSA congregations in the greater Washington, D.C., area. As General Presbyter John serves as chief executive providing faithful and innovative leadership to the presbytery in developing its vision and carrying out its mission to be agents of salvation, reconciliation and justice.
John graduated from Sterling in 2005. He has a Master of Divinity from Princeton Theological Seminary, where he won the "The Gerald R. Johnson Award in Speech Communication in Ministry" award in preaching and communications. In 2017, John completed a Certificate in Advanced Executive Leadership for Ministers from Howard University.
John was ordained into the PCUSA in 2013. He served pastorates at Red Clay Creek Presbyterian Church and Calvary Presbyterian Church, both located in Wilmington, Del., as well as Northminster Presbyterian Church and Western Presbyterian Church both located in Washington, D.C.
The Entrepreneurial Excellence Award recognizes a servant leader entrepreneur who has proven success in business – for profit or not-for-profit – and demonstrates a commitment to ethical leadership in the marketplace.
 Carroll Long, Jr. is an accountant and shareholder of Long and Associates Public Accountants Inc., a north-central Kansas public accounting firm serving more than 1,500 clients with offices in Salina, Concordia, Clifton and Ellsworth. Long founded the firm in 1994, and it currently has nine accountants and six support staff employees.
In 2001, Long, along with five other Salina businessmen, purchased the Kansas Cagerz, a professional men's basketball franchise playing in the United States Basketball League through the end of the 2007 season. The team won the United States Basketball League Championship in 2007. Long was honored by being named "Executive of the Year" in 2005 and again in 2007. 
Long graduated from Sterling with a Bachelor of Science degree in Accounting and minor studies in Finance and Theater. Long and his wife, Megan (Lowen) Long fs91, have been married for 32 years and have two children, Isabella (Samuel Finch) and Ethan and three grandchildren Jack, Emmett and Juliette. 
The STEM Distinction Award recognizes a Sterling graduate who works in the Science, Technology, Engineering or Mathematics field that has achieved significant success in their professional role and encourages a Christian worldview while discovering innovations and best practices in their field.
David Leebrick is retired after 40 years at various companies developing semiconductor solutions to product needs, working for companies including Avago Technologies, dpiX, Qimonda, Intersil Corporation, Burroughs Corp/Unisys and Tektronix. His area of specialty was photolithography, and he was awarded three US Patents for inventions in fabrication methods.
Leebrick graduated from Sterling with a degree in Chemistry. Upon graduation, he headed to Iowa State University to begin a master's degree. David's studies were put on hold from 1970 to 1972, as he served his country in the U.S. Army. Upon discharge from the Army, David resumed his studies, graduating in 1974 with a master's in physical chemistry.
Leebrick and his wife, Susan (Gardner) Leebrick '69, have five children. He has served in various church roles including  Sunday school teacher, deacon and deacon chairman and has served on a mission committee with trips to Belize, Venezuela and Haiti. His hobbies include genealogy, gardening and landscape photography.
The Excellence in Scholarship Award recognizes a Sterling graduate who has excelled in scholarship, in or outside the academy.
Emma G. Bailey is a visiting professor at the Universidad Veracruzana. She was a Fulbright Scholar and served as a professor of US Studies in 2018, also at the Universidad Veracruzana. Bailey served as president of the Association for Humanist Sociology in 2010 and continues to be active in various professional organizations. She previously served as a professor of sociology at Western New Mexico University for 15 years. During her academic career, Bailey has received many honors, including Teacher of the Year and the Excellence in Service Award, both from Western New Mexico University, and a 40 under 40 award from New Mexico Business Weekly.
Bailey graduated from Sterling with a degree in Religions-Philosophical Studies, and she holds master's degrees from Louisville Presbyterian Theological Seminary and Duke University. She earned her doctorate from the University of Denver and Iliff School of Theology in 2001 with specialties in sociological theory, sociology of gender, and sociology of religion. She is a life-long traveler, cyclist and dog companion.
The Excellence in Education Award recognizes a Sterling graduate who demonstrates the dedication, commitment and loyalty to teaching and service to community that reflects the rich heritage of the education department.
Kenneth D. Killian is retired after a 50-year career in education where he served as a teacher and then as principal at Mesa Unified School District in Newport Beach, Calif. He was recognized for his work as principal by earning the National Renaissance Learning School Award, Schoolwide Title 1 Program Award, Title VII Comprehensive School Grant, and his school earned the Governor's School Reading Award three different years. A career highlight for Killian was serving on the advisory board for the Principals' Center at Harvard University. Most recently, he also taught at Vanguard University.
Killian graduated from Sterling with a degree in Elementary Education and History and Political Science. He earned his masters degree from Indiana State University. 
Sterling College is a Christ-centered, four-year college located in Sterling, Kansas, with a mission to develop creative and thoughtful leaders who understand a maturing Christian faith. For more information, visit www.sterling.edu.