Sterling College recognizes 2022 Alumni Award winners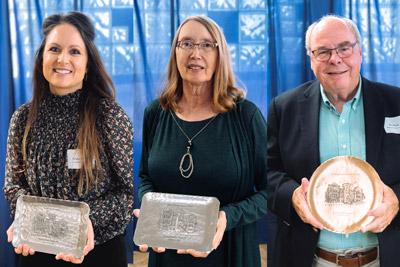 Wednesday, October 26, 2022
Sterling College recognized its Alumni Award winners for 2022 who were awarded at Homecoming on Oct. 6-8. The Distinguished Service Award was awarded to Rev. Robert 'Bob' Wade '69, the Spirit of Sterling Alumni Award was awarded to Donna (Brownlee) Foster '76, and the Young Alumni Award was given to Dr. Kysha (Nichols) Totten '09.
Totten graduated from Sterling with a degree in Biology. Totten was accepted to the University of Kansas School of Medicine where she completed her first two years at the Kansas City campus before transitioning to Wichita for her third and fourth years of medical school. Following graduation in 2013, she completed her residency training in Family Medicine at Smoky Hill Medical Center in Salina. Since 2016, Dr. Nichols has practiced full-scope family medicine with obstetrics in Colby. 
Totten and her husband, Dereck, have two boys, Turner and Finnick. 
The Young Alumni Award is presented to a recent graduate of the past fifteen years who has achieved success as a younger leader and demonstrated excellence in career, service to others, and loyalty to Sterling College.
Foster graduated from Sterling with a degree in Home Economics Education. She earned her master's degree in Home Economics from Kansas State University and did two years of graduate work in Theater Costume Design at the University of Michigan. Between these two programs she was a County Extension Home Economist in northeast Kansas and was the alumni officer at Sterling College. She worked for fashion designers in Dallas and Honolulu and ran theater costume shops at the University of Maryland and Southern Methodist University. She taught Home Economics and Theatre Costuming at Sterling College. She has designed and built costumes for educational and professional productions in several states. She currently provides or constructs items for Sterling College, Sterling High School, Sterling Community Theatre, Hutchinson Family Community Theatre, and others.
Foster and her husband, Brian '75, have a son, Bobby. 
The Spirit of Sterling Alumni Award recognizes a Sterling graduate who exemplifies the heart of Sterling College's mission. This designation honors a servant leader of distinction who embraces Sterling's mission and serves Christ Jesus in their career, church, community and human relationships.
Wade graduated from Sterling with a degree in History and Political Science. He met his wife, Connie (Bill) '69 while at Sterling. He earned his Master of Divinity from Gordon-Conwell and also a Doctorate of Ministry from Fuller Theological Seminary. Bob served in Presbyterian churches in Tribune, Kan., Grand Island, Neb., and churches in Ohio, retiring as senior pastor from Fairmont Presbyterian Church in the Dayton area. He currently provides pre-retirement transition assistance for pastors across the United States. He is serving as interim pastor for various rural congregations in Ohio. He has also worked as the Discipleship Coach for other churches. 
The Distinguished Service Award is the highest alumni honor presented. It honors and recognizes a lifetime of service that exemplifies the purposes for which Sterling College exists—exceptional contributions to society, distinguished professional accomplishment and outstanding leadership and character. The recipient or recipients are chosen by vote of the Alumni Council and Sterling College's Board of Trustees.
Sterling College is a Christ-centered, four-year college located in Sterling, Kansas, with a mission to develop creative and thoughtful leaders who understand a maturing Christian faith. For more information, visit www.sterling.edu.