Sterling College recognizes 2022 Marketplace Excellence Award Winners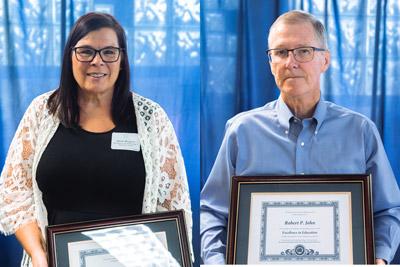 Wednesday, October 26, 2022
Sterling College recognized its latest class of Marketplace Excellence Awards Winners during its 2022 Homecoming Weekend. The Excellence in Education Award was awarded to Sheila (Bailey) Burgess '82 and Robert John '74.
The Excellence in Education Award recognizes a Sterling graduate who demonstrates the dedication, commitment and loyalty to teaching and service to community that reflects the rich heritage of the education department.
Sheila (Bailey) Burgess is retired after a 40-year career in education where she served as a third grade teacher at the Sterling Grade School. She and her husband, Lee, have two children and, in her last year of teaching, was blessed with the addition of three granddaughters. 
Burgess graduated from Sterling with a degree in Elementary Education and earned her masters degree from Friends University. 
Robert John is retired after a 45-year career in education where he taught in the Quivira Heights and Central Plains school systems. He and his wife, Margie (Hoelscher), both graduated from Sterling College in 1974. 
John taught junior high and high school math and science, chemistry, physics, and computer science. He coached junior high football, basketball, and track, and high school scholars' bowl, coaching the team to a state championship in 2002. He kept stats for the high school basketball and football teams for many years. John led trips to Washington D.C., for high school students and community members for over 25 years. He was also inducted into the USD 112 Hall of Fame. 
John graduated from Sterling with a degree in Christian Education and Secondary Education.
Sterling College is a Christ-centered, four-year college located in Sterling, Kansas, with a mission to develop creative and thoughtful leaders who understand a maturing Christian faith. For more information, visit www.sterling.edu.