Sterling College recognizes employees for 15 years of service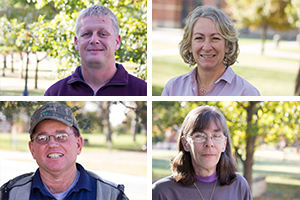 Four employees reached milestones in their careers at Sterling College and were recognized at the annual Kickoff Banquet on Monday, Aug. 4. Justin Morris '00, Felicia Squires, Rick Winters and Lynn Valentine have each served the College for 15 years.
Morris is the assistant athletic director and head women's soccer coach for Sterling College. He began his career in 1999 as head coach for both the men's and women's soccer programs, but stepped down from the men's coaching position in 2006 to focus on the women's team. He was named the 2005 KCAC Women's Coach of the Year and the 2006 NAIA Region IV Coach of the Year.
"Justin has done a wonderful job as a soccer coach and assistant athletic director. I know I can count on him to make decisions with the best interest of the College in mind. Not only has the SC women's soccer team benefited from Coach Morris' leadership, but the whole campus has benefited from his heart to serve," said Gary Kempf, athletic director. 
Morris became head coach for the men's and women's soccer teams after graduating in 1999 with a B.S. in Physical Education and Health. During his time at Sterling College, he has also served as men's tennis coach and sports information director. Morris is a co-owner of the local t-shirt company MR TEE, LLP. Morris is married to Karna '99, and they have three children.
Squires is a professor of language and literature and chair for the Department of Language and Literature. She also served as co-interim dean and associate dean for several years. Squires was awarded the McCreery Teaching Award in 2009 for excellence in teaching, and consistently has positive reviews by students in her classes.
"Felicia is an excellent example of a professor that challenges her students to high standards in the classroom. As an associate dean, she was committed to Christ-centered education and always considered the best interest of the students, faculty and institution. She has influenced and transformed many lives," said Dr. Gregory P. Kerr, vice president for academic affairs.
Squires holds a Ph.D. in American Literature from Catholic University of America, an M.A. in English from East Tennessee State University and a B.A. in Biblical Studies and Linguistics from Northwest Christian College. She is married to Charles and has three boys.
Winters is part of the Service Department where he maintains campus grounds and buildings. He was an integral part of the Art and Media Center renovation, helping resurface walls, paint, implement a new projector system, make improvements to the student workroom and various other equipment upgrades.
"Rick is conscientious about completing his work in a timely manner and he is always willing and ready to help. He has been in places on campus that most people do not even know exist and would not dare to go if they did!" said Vicky Kirchoff, physical plant office manager.
Winters enjoys hunting. He lives with his wife, Diana, in Sterling. They have five children.
Valentine is a housekeeper for Thompson Hall, Mabee Library and Kelsey Hall. She joined Sterling College the same year her daughter started as a freshman but has stayed well past four years. One of her favorite parts of the job is student interaction.
"Lynn is a hard worker and cares deeply about the mission of Sterling College. Her coworkers can attest to the great relationships that Lynn has with the faculty and staff. She takes a personal interest in the students who come to Sterling and still keeps in touch with many of our alumni," said Kirchoff.
Valentine spends her free time scrapbooking, knitting and with her family, especially her grandchildren.
Sterling College is a Christ-centered, four-year college located in Sterling, Kan., with a mission to develop creative and thoughtful leaders who understand a maturing Christian faith. For more information, visit www.sterling.edu.