Sterling College repeats "Best in the Midwest"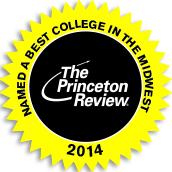 Tuesday, September 3, 2013
Parents and students across the country look to The Princeton Review for ratings and information on the best colleges and universities in the United States. For the second year in a row, they will find Sterling College on The Princeton Review's list under the "Best in the Midwest."
"Sterling College has been named to the 'Best in the Midwest' list for three out of the past four years. Our faculty and staff continue to make Sterling an academically rigorous institution that is ranked with the top schools in the nation. We are proud to be on the list this year and will continue to work hard with servants' hearts and humble attitudes," said Scott Rich, president.
As part of the student survey, The Princeton Review asks students to rate their own school on several issues and answer questions about themselves, their fellow students and campus life. Surveyed Sterling College students said the professors are "always available through email and by phone" and "some even have students over for dinner or club activities." The students also said that their fellow students were "extremely friendly."
The College improved its rating in the categories of admissions selectivity and fire safety by one point, making the rating 79 and 64 respectively. Sterling retained its rating in the other categories: academics 74, financial aid 81, quality of life 73, and green 60*. The ratings are based on institutional data obtained from the College in 2012-13 and/or student survey data. Scores are on a scale of 60 to 99. The criteria for each category is listed on The Princeton Review's site at http://www.princetonreview.com/college/college-ratings.aspx.
The Princeton Review, www.PrincetonReview.com, is an education services company known for its test-prep courses, tutoring, books, and other student resources. Headquartered in Framingham, Mass., with editorial offices in New York and locations across the U.S.A. and abroad, The Princeton Review, which is a privately held company, is not affiliated with Princeton University.
Sterling College is a Christ-centered, four-year college located in Sterling, Kan., with a mission to develop creative and thoughtful leaders who understand a maturing Christian faith. For more information, visit www.sterling.edu.