Sterling College Sends Second Wave of Students on Mission Trips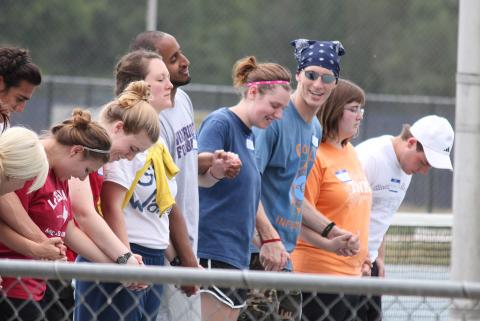 This week the Sterling College Missions Department is sending out an additional 50 plus students and seven faculty around the world. This is the second wave of students to leave the college on short-term mission trips.
The countries they are working in include: Nicaragua, Ghana, India, Tanzania, St. Lucia and Indonesia. Eight teams have already left; the second group of teams will be going out in the next week. Follow their blogs at www.sterling.edu/blogs/missions.
Team India will work with future worship leaders at the School of Worship. The team will be led by senior Scott Hicks. Other members include: sophomore Stephanie Smith and junior David Tank. They left May 30 and will return June 17.
Members of the cross-country and baseball teams make up Team Ghana. The team will focus on village outreach and street evangelism. They will also work with local churches and give sermons. The team is led by senior Chris Penner with junior Kara Svaty serving as assistant team leader. Other team members include: juniors Austin Gautier and Jared Reimer and seniors Brock Moss and Kevin Burgess. They leave June 4 and return June 19.
The second of two Tanzania teams will work with children and go on village outreaches. Evangelism will be one of their main focuses. Team two is led by seniors David Guthmiller and Michala Henderson. Other members include: sophomores Jacob Blackwell and Adam Guthmiller and recent graduates Annette Ensz and Chris Halcomb. They left May 30 and will return June 13.
The second team going to Nicaragua is made up of members of the men's and women's basketball teams. They will serve in Granada and Managua, providing Vacation Bible School and teaching P.E. classes for kids of all ages. The team is led by Instructor in Exercise Science K.C. Bassett, with graduates Erica Herman and Trent Stutzman serving as assistant team leaders. Other members include: juniors Carley Chambers, Spencer Childs, Ted Dower, Randi Lucas, and Bradley Smith; and seniors Kayla Eilert and Cassi Spleiss. They leave June 1 and return June 15.
Team St. Lucia is heading to three different cities: Soufrier, Vieux Fort and Guesneau. They will work with children at Vacation Bible School and engage in door-to-door evangelism. The team is led by senior Megan Walker with recent graduate Josh Matthews serving as assistant team leader. Other members include: juniors Victoria Brewer, Danika Ginther, Catherine Kelly and Shelby Geddes; and seniors Andrew Drake, Shane Engelken, Adriana Gonzalez and Tavis Leake. They leave June 8 and return July 1.
Team Indonesia will work in the capital with an established church called GGA. They will work with youth and facilitate a Vacation Bible School. The team is led by senior Wes Cates and junior Aundraya Garcia serving as assistant team leader. Other members include: sophomores Megan Gilbreath, Matt Swank, Phillip Taylor, Aryel Sagala and Ethan Young; junior Mackenzie McGuire and senior Daniel Karamoy. Karamoy and Sagala are international students from Indonesia and will serve as translators. They leave May 31 and return June 13.