Sterling College students to participate in master class with The Meadowlark Project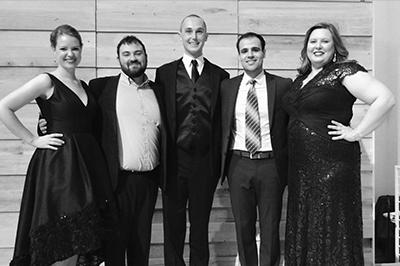 Tuesday, January 29, 2019
The Meadowlark Project, a vocal ensemble dedicated to the creation and performance of new vocal works, will present its inaugural recital entitled Sounds of the Plains at Sterling United Presbyterian Church in Sterling, KS on Saturday, February 9, 2019 at 2 p.m. Additionally, artists from The Meadowlark Project will facilitate a master class for Sterling College students on Saturday, February 9, 2019 at 10 a.m. at the same location. Both events are free and open to the public, thanks to the generous sponsorship of Reach Out Kansas, Inc.
"The Music Department is excited to host the artists of The Meadowlark Project. This is a fantastic opportunity for our students to work with professional performers and teachers. We believe they will truly enjoy their time together, and the performance will prove to be a wonderful afternoon of music," said Tiffiney Harms, assistant professor of music.
The recital will feature singers Neal Long, Mackenzie Phillips, Brian Sussman, and Natalie Young and pianist Alejandro Avila. Neal Long and Mackenzie Phillips will facilitate the master class.
The Meadowlark Project was founded in 2018 after the founding members participated in a class at the University of Kansas comprised of four composers, four singers, and four pianists. The mission of the class was to develop new art song specific to Kansas. At the conclusion of the class, 32 new songs were written by Kansas-based composers using texts by Kansas-based poets. Sounds of the Plains features 19 of the aforementioned songs. The songs are composed by by Frank Nawrot, Ben Justis, and Bonnie McLarty and highlight texts by Caryn Mirriam-Goldberg, Wyatt Townley, Elizabeth Schultz, and Megan Kaminski. The music explores ideas of nature and climate and their impact on the human experience in the American Midwest.
Sterling College is a Christ-centered, four-year college located in Sterling, Kansas, with a mission to develop creative and thoughtful leaders who understand a maturing Christian faith. For more information, visit www.sterling.edu.