Sterling College students sing in United Kingdom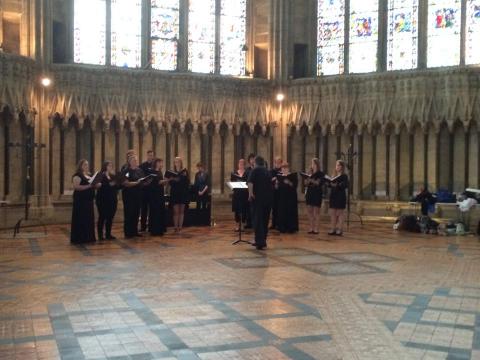 Seventeen Sterling College students, alumni, and Dr. Brad Nix, associate professor of music, will combine musical forces with composer Joseph Martin to perform three concerts in the United Kingdom. They will begin at Southwark Cathedral in London, and travel to York Minster in York, England, and St. Giles' Cathedral in Edinburgh, Scotland. Composer Joseph Martin will conduct the choir, and Nix will lead the accompaniment.
"The opportunity to travel through England and Scotland and perform will be once in a lifetime for many of the students, both current and former. We are excited to meet up with Joseph Martin and sing under his direction again. The students really enjoyed his time at Sterling three years ago for the Composer Festival," said Nix.
Martin is the editor for Shawnee Press and was the visiting composer for the annual Composer Series held by Sterling College in 2011. The trip to the UK was planned by Harmony International of Atlanta, Ga.
Participants in the European choir event include: Junior Hannah Gardner of Topeka, Kan.; Rachel Gardner '13; Sophomore Reid Goffigon of San Carlos, Calif.; Senior Perry Hadduck of Helena, Mont.; Tiffiney Harms '07; Senior Ashley Hasart of Norco, Calif.; Freshman Jordan Himes of Eureka, Kan.; Senior Britnie Jenkins of Cimarron, Kan.; Wendy Katsbulas, parent of Sterling alumna Samantha LeFils; Sophomore Elijah Klein of Valley Center, Kan.; Senior Greta Larson of Clay Center, Kan.; Samantha LeFils '13; Brad and Pattie Nix; Freshman Abigail Pickering of Clearwater, Kan.; Junior Taylor Stucky of Pretty Prairie, Kan.; Senior Brittany Westerman of Zenda, Kan.; Senior Jackie Wilkerson of Wichita, Kan.; and Sophomore Cassidy Woodard of Abilene, Kan.