Sterling College students volunteer in Delaware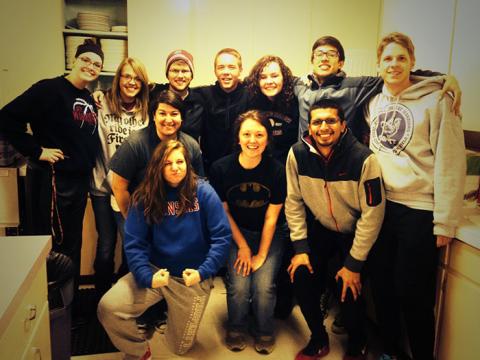 Wednesday, March 26, 2014
Twelve students and staff members from Sterling College drove to Wilmington, Del., to participate in Christian missions during their spring break. Wilmington is the home of Urban Promise, a non-profit organization whose goal is to equip children and young adults with skills necessary for academic achievement, life management and personal growth.
The sponsors of the trip were three Sterling College resident directors—Naiya Hernandez '08, Andy Dinh '10, and Addie Swihart '11. Swihart said their work consisted of physical labor such as painting, gardening and repair around the six campuses of Urban Promise, as well as spiritual labor, which included "working with youth at the after school clubs—helping tutor, explaining Bible stories and working with students as they completed their homework."
The team left March 8 in two vans and drove for 22 hours to the campuses of Urban Promise. They arrived to find some familiar faces—Emily Kennedy '10, Salima Watson '11, Randi Parrot '12, Samantha Hindman '11, Luke Orr '07, and Joel Orr '09—all Sterling College alumni who now work at Urban Promise. Orr has started a basketball program and several Sterling College students enjoyed helping him coach the young players. The staff members were an inspiration to the Sterling College team.
"The Urban Promise staff was an example in God's faithfulness to us, showing up every day for their kids and loving them unconditionally," said Swihart.
The students who went on the Urban Promise trip were Emily Allen of Hutchinson, Kan., Emily Bebermeyer of Sedgwick, Kan., Austin Gautier of Lyons, Kan., Joshua Hoover of Elbing, Kan., AnnaBelle Little of Sedgwick, Kan., Joe Magana of Monterey Park, Calif., Michaela Moore of Wichita, Kan., Joey Moreno of Pico Rivera, Calif., and Dayton Winter of El Dorado, Kan.