Sterling College Teacher Education Program earns national accreditation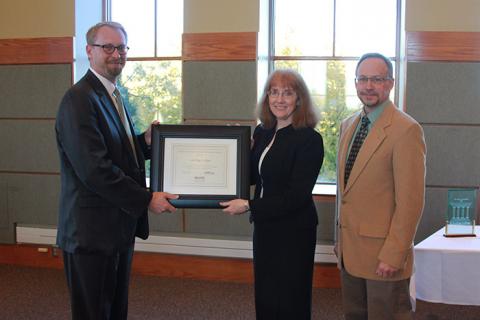 Thursday, November 7, 2013
The Sterling Teacher Education Program at Sterling College announced Monday, Nov. 4, that it has received continued accreditation by the National Council for Accreditation of Teacher Education. According to NCATE, receiving continued accreditation means that the institution has met "rigorous standards set forth by the professional education community."
"The process for renewing accreditation is long and labor-intensive. Receiving this accredited status involved the efforts of the entire education department as well as faculty from the individual subjects in which our students can prepare for licensure. The leadership provided by Terri Gaeddert, Nancy Hicks and the education faculty made reaccreditation possible," said Dr. Gregory Kerr, vice president for academic affairs.
Gaeddert is chair of the Sterling College Department of Education, and Hicks is the department's administrative assistant responsible for organizing the multiple documents necessary for accreditation.
Sterling College is accredited to prepare candidates for licensure in art, biology, chemistry, elementary education, English, mathematics, music, speech and theatre, health and physical education, history and government. There are both campus-based and online delivery methods for some programs.
To earn reaccreditation, Sterling College underwent a self-study of six rigorous national standards, providing documentation on how STEP fulfills each requirement. This past winter, NCATE performed a site visit to evaluate the campus facilities and see the education program in action. They interviewed faculty, staff, clinical teachers and education professionals from schools around the area who work with candidates in the STEP program.
"We are blessed to work with wonderful teachers and educational professionals in this process of preparing the next generation of teachers," said Gaeddert.  "The NCATE visit occurred during one of our blizzards this last winter. We appreciate everyone who worked with us to meet the requirements of the NCATE team in spite of the challenging conditions outside."
Sterling College received the maximum accreditation of seven years, and will undergo its next accreditation evaluation in 2020.
Sterling College is a Christ-centered, four-year college located in Sterling, Kan., with a mission to develop creative and thoughtful leaders who understand a maturing Christian faith. For more information, visit www.sterling.edu.