Sterling College Theatre stages "Cinderella"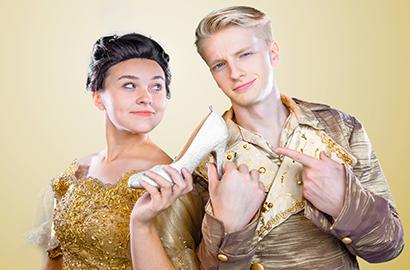 Wednesday, October 2, 2019
The classic fairytale "Cinderella" will come to life on the Sterling College Theatre stage as this year's Homecoming musical on Thursday-Saturday, October 10-12 at 7:30 p.m. and Sunday, October 13, at 2 p.m., in Culbertson Auditorium on the Sterling College campus.
This is a fresh new take on the beloved tale of a young woman who is transformed from a chambermaid into a princess. The full title of the musical is "Rodgers and Hammerstein's Cinderella" and offers a new version that is both hilarious and romantic while still using the story's classic elements – glass slippers, pumpkin, and a beautiful ball – along with some surprising twists.
The famous musical songwriting team of Rodgers and Hammerstein first wrote their Cinderella as a television musical for Julie Andrews in 1957. It did not play Broadway until 2013 with a re-written book by Douglas Carter Beane and new arrangements of familiar songs such as "Ten Minutes Ago," and "Impossible," along with other Rodgers and Hammerstein tunes taken from other shows. 
Written for today's audiences, this story focuses more than just a pretty girl with the right shoe size. This "Cinderella" is a contemporary figure living in a fairytale setting. She is a spirited young woman with savvy and soul who doesn't let her rags or her gowns trip her up in her quest for kindness, compassion, and forgiveness. She longs to escape the drudgery of her work at home and instead works to make the world a better place. She not only fights for her own dreams, but forces the prince to open his eyes to the world around him and realize his dreams, too. 
Sterling College sophomore Emma Kwasiborski from Kansas City leads the cast as Ella with senior Mason Rich from Sterling as Prince Topher. Her cruel stepmother is Madame, played by junior Ardynn Brooks from Lyons. With the help of Marie played by sophomore Catherine Vessey from Sterling, her fairy godmother disguised as a homeless, old lady from the village, Ella gets her chance to find love — as long as she finds it before midnight. 
Several roles in the Sterling College production have been double cast, allowing more students the opportunity to perform. Playing the stepsisters are sophomore Kimberly Loya from Garden City and freshman Katie Fox from Pratt along with Jojo Maxwell, senior from Corona, CA and Rachel Townson, sophomore from Wichita. Freshmen Jacob Pieplow from Sterling and Nick Amezola from Corona, Calif., share the role of royal advisor Sebastian. Freshman Dylan Werth from Hays will play Jean-Michel, a passionate villager who is in love with one of the stepsisters. Junior Will Dutton of Sterling will play Lord Pinkleton, another advisor to the kingdom.
The 46 member cast features the men's ensemble including John Williams (St. Louis, Mo.), Seth Rogers (Wichita), Adam Moore (Nickerson), Trinity Parriman (Kernersville, N.C.), Scout Perryman (Hays), Torey Wilson (Rural Hall, N.C.), Micah Bachert (Bloomfield, N.M.), TJ Ferri (Keller, Texas), Darren Porche (Houston, Texas) and Jesse Shepherd (Ft Collins, Colo.). The women in the ensemble are Emily Crowley (Collinsville, Okla.), Kaleigh Pitre (Point, Texas), Jenna Weiss (Little River), Kendra Klaassen (Hutchinson), Maria Urwiller (Hutchinson), Shiann Stewart (Ft Worth, Texas), Kyra McGuire (Haven), Sam Jarvis (Corona, Calif.), Kalassia Thomas (Wichita), Lanna Wagner (Hutchinson), Mayda Stallbaumer (Centralia), Molly Sunberg (Longmont, Colo.), Tarmine Darcy (Burrton), Alicia DeHaan (Salina), Ava Brooks (Lyons), and Savanna Burt (Wichita).
The children's ensemble will include Davi Brooks and Cody Brooks of Lyons and Leila Callan and Harper Callan of Sterling. 
"Rodgers & Hammerstein's Cinderella" is being directed by Sterling College Theatre faculty member Sasha Hildebrand with music direction by Marisa Callan, Sterling's choral music director. Theatre faculty member Stephen English is designing the set and lighting.
Tickets for the show are $15 for adults and $5 for students and seniors. Tickets are available online sterling-college.ticketleap.com or at the door before each performance. 
In addition to the performances, Cinderella and some of her ladies in waiting will be hosting "Cinderella's Tea Party" on Saturday, October 13 from Noon to 1:30 p.m. in the Sunken Garden in front of Spencer Hall on the Sterling College campus. Cinderella herself plus other princesses along with knights will be in attendance and will be offering games, pumpkin painting, face painting, photos and tea and cakes. The cost is $5 per child. Sterling College students and employees receive free admission with employee or student i.d.
Sterling College is a Christ-centered, four-year college located in Sterling, Kansas, with a mission to develop creative and thoughtful leaders who understand a maturing Christian faith. For more information, visit www.sterling.edu.