Sterling College Theatre students attend regional festival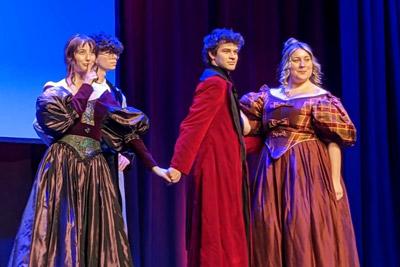 Wednesday, February 1, 2023
Seventeen Sterling College Theatre students and two professors attended the Kennedy Center American College Theatre Festival last week in Des Moines, Iowa. The regional festival attracted over 1,300 participants from colleges and universities from seven midwestern states. 
The KC/ACTF ran from January 23-27 and included numerous workshops, sessions, performances, auditions, competitions and a costume parade. This was the first in-person conference since 2020. 
The theatre students spent their time attending workshops on various theatrical subjects as "Becoming your own dialect coach" and "Musical Theatre Audition Methods" to "Hacking Wigs and other Tricks." In addition, they were able to attend performances of full-length plays and individual scenes, monologues, and songs. 
A large part of the week was spent in auditions for various summer stock and professional theatre companies. Twelve Sterling students auditioned or interviewed and received "call-backs" from several companies. (A "call-back" is when a theatre company asks you to interview or have another audition with them.)
Acting, singing, and dancing competitions were also part of the week. Two Sterling College musical theatre students made it to the semi-final round: sophomore Zeke Thompson of Newton and freshman Mary Little of Hutchinson. Senior Torey Wilson of Rural Hill, N.C., made it to the semi-final round of acting. 
Junior Rachel Thomson, Buhler, auditioned for and was accepted to the Musical Theatre Intensive Dance Cabaret. That select group rehearsed during the conference and performed for the closing session on Friday. Thomson said, "that was really the highlight of the festival for me being part of the Music Theatre Intensive Dance Cabaret! I got to learn a number from a Broadway veteran in three days and perform for the concert at the big theatre!"
Freshman Noah Svaty, Sterling, was one of the students who received "call-backs" from auditions. He said, "Getting call-backs for professional theatre companies was wild – a definite highlight."
"The conference honestly gave me a new perspective of our own Sterling College Theatre. We are incredibly blessed with the faculty we have and the high quality of shows that we put on. There were good productions at the festival but nothing that absolutely blew me away. It just made me realize how lucky we are at Sterling," Svaty added.
Sterling College theatre faculty member Stephen English who organized the Sterling group trip said, "this experience is important because it gives our students a sense of the range of experience they have and the quality of the productions which are being created. It also gives them an opportunity to perform, audition and interview for others outside of Sterling."
Svaty said, "KCACTF is an incredible learning experience. Not only that but it's also a great way to make connections and in this business, connections are everything. You meet directors, Broadway choreographers, voice coaches, casting directors, agents. It's just a great experience. Festivals like this are vital for students to really get a jump start on their career."
Thomson said, "I am very grateful to go to the festival. It gives you a very clear look at what the business of theatre actually is. In my specific case, I saw and learned how choreography is learned at a Broadway pace—which is something that will help me dramatically in the future! Another key aspect is being able to audition for professional theatres and companies while you are there! As a college student, sometimes it is hard to be able to find the time to record auditions or go audition for theatres in person. So KCACTF was the perfect outlet to help SC students get out there!"
Junior Emily Jones, Wichita, was in the unique position of connecting with theatre professionals she already knew while at the festival. Last summer she interned at the Black Hills Playhouse in South Dakota. Members of that professional theatre team were at the regional festival and made Jones another offer for summer work this year. Jones said, "The Festival helps you realize that the theater world is small, and connections are so important." 
Sterling College Theatre's productions of Red Velvet and Anatomy of Gray were recognized with Certificates of Merit for direction and ensemble acting for both productions. The lighting design for Gray and costumes for Velvet were also cited. Several costumes from Red Velvet were included in the Costume Parade on the closing night of the Festival. 
"It was an incredible week full of exciting things. We are proud of our students and how they performed and conducted themselves," said Sasha Hildebrand, Sterling College theatre faculty member also attending the festival. "I think everyone returned to campus filled with renewed excitement and more of an understanding about what theatre is all about!"
Other Sterling College students who attended the regional festival and not already mentioned include: Dylan Werth, Hays; Justin Smiley, Oklahoma City; Jake Pieplow, Luke Harding, and Caleb Brownlee, Sterling; Katie Lumbert, Wichita; Keeley Coon, Eureka; Anya Billings and Sean Gorman, McPherson; and Josh Morris, Hutchinson.   
The Sterling College Theatre students return to an ambitious semester with three productions: the musical, Company, on February 10 and 11; the play, Metamorphoses, in March; and the new musical, Twelfth Night, in April. 
Sterling College is a Christ-centered, four-year college located in Sterling, Kansas, with a mission to develop creative and thoughtful leaders who understand a maturing Christian faith. For more information, visit www.sterling.edu.