Sterling College travels to Cameron Christmas Classic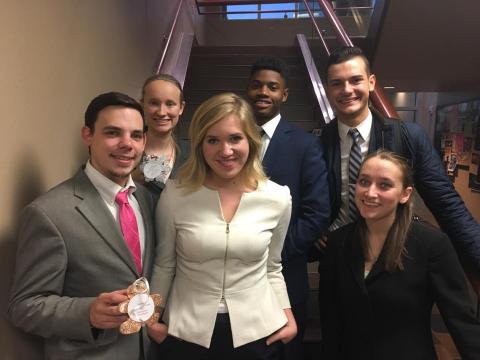 Tuesday, December 12, 2017
The annual trip to Lawton, Oklahoma, was fruitful for the Sterling College Debate and Forensics Teams, bringing home eight awards from the Cameron Christmas Classic. The three-day tournament, co-hosted by Cameron University and West Texas A&M University included several competitions for both debate and forensics.
Wes Lowrey of Topeka, Kansas, earned the highest award of the group with first place in impromptu speaking.
Matt Scharff of Tonganoxie, Kansas, brought home the most awards, earning both third place and top novice competitor in dramatic interpretation. He also took home fourth place in prose interpretation.
Bethany Jenkins of Burns, Kansas, competed in IPDA debate. From a field of over 40 competitors, she battled her way to fifth place overall.
Stephen Jenkins of Topeka, Kansas, collected seventh place in persuasive speaking. Finishing fifth place in persuasion was Dara Quastad of Inman, Kansas. And Gabriella Martinez of Hutchinson, Kansas, finished second in informative speaking.
Coach Ken Troyer said, "This is one of the more important tournaments of the semester, with it being right near the end of the term most schools are really competitive right now, in that the students are in peak performance shape having had the semester to hone their skills. With each of the team members advancing to finals, we should continue to fare well next semester."