Sterling College welcomes new faculty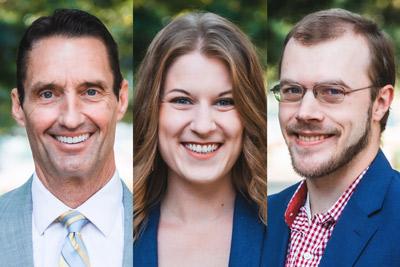 Sterling College welcomed three new faculty members to campus for the fall semester. Classes begin on Wednesday, August 18. 
"We are proud to welcome these full-time faculty and clinical instructors to the Sterling College family, and we are looking forward to how these individuals will engage and interact with the students we are here to serve," said Dr. Ken Brown, vice president for academic affairs and dean of the College. 
Dr. Bill Anderson joins Sterling College as assistant professor of education. Anderson previously served as superintendent of schools for USD 419 Canton-Galva. Prior to that, he was the principal for USD 376 Sterling in the junior high and high school. Anderson holds a Bachelor of Arts; a Master of Arts in School Leadership; endorsements in secondary education, special education, educational administration, and district leadership; and a doctorate in Educational Administration from Wichita State University.
Dr. Christina George joins Sterling College as assistant professor of music. George has been an adjunct professor for Xavier University throughout the last academic year. She has also been an adjunct professor at Biola University, and a teaching assistant at Claremont Graduate University and Biola University – Conservatory of Music. George is the founder, instructor, and administrator of the Austinburg Music Academy in Covington, Ky., where she has been actively involved with both in-person and remote instruction and curriculum development since 2017. George holds a B.M. in Piano Performance from Biola University, an M.A. in Musicology from Claremont Graduate University, and a Ph.D. in Musicology, also from Claremont Graduate University.
Dr. Samuel Hokamp, comes to Sterling College as assistant professor of mathematics. He was previously a visiting assistant professor of mathematics at St. Norbert College, in De Pere, Wis. Hokamp was also a graduate teaching associate and instructor of record at Bowling Green State University in the Department of Mathematics and Statistics, from 2013 through 2018. Hokamp holds a B.S. in Mathematics from Marquette University, an M.A. in Mathematics from Bowling Green State University and a Ph.D. in Mathematics – also from Bowling Green State University. 
Sterling College is a Christ-centered, four-year college located in Sterling, Kansas, with a mission to develop creative and thoughtful leaders who understand a maturing Christian faith. For more information, visit www.sterling.edu.