Sterling College welcomes new faculty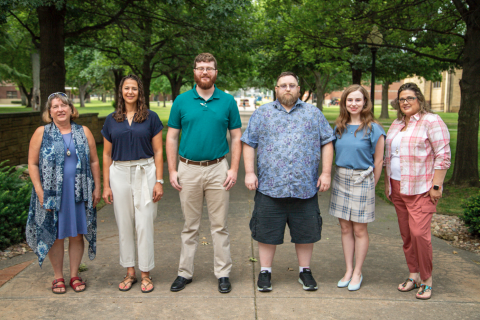 Wednesday, August 9, 2023
Sterling College welcomed seven new faculty members to campus for the fall semester. Classes begin on Wednesday, August 16.
"We are proud to welcome these full-time faculty and clinical instructors to the Sterling College family, and we are looking forward to how these individuals will engage and interact with the students we are here to serve," said Dr. Ken Brown, vice president for academic affairs and dean of the College. 
Dr. Donna Devlin comes to Sterling as assistant professor of history and government. Devlin earned her Ph.D. in History from the University of Nebraska-Lincoln. Prior to that she earned her Master of Arts in American History and Government from Ashland University; B.S. in Education and a B.A. in History from Fort Hays State University.  
Sean Engler comes to Sterling as instructor of graphic design. Engler earned his Bachelor of Fine Arts in Graphic Design from FHSU and is currently finishing work on his Master of Fine Arts from FHSU, as well. His primary practice is Digital 3D Creation including sculpting characters, animation, and product development. 
Tyler Jones comes to Sterling as assistant clinical professor of athletic training. Jones earned his Bachelor of Science in Physical Education and Health and Exercise Science from Missouri Western State University; and his MS in Athletic Training at Sterling College this spring.
Katie Petersen comes to Sterling as assistant professor of art and design. Peterson earned her Bachelor of Arts in Professional Studio Art from Doane University and has recently earned her Master of Fine Arts in Painting from Fort Hays State University in May 2023. 
Dr. Dawn Schluetz comes to Sterling as associate professor of theatre. Schluetz completed her Ph.D. in Fine Arts from Texas Tech University, where she focused on acting, directing, and playwriting. She holds two master's degrees, one in theatre and performance studies from Bowling Green State University, and a second from Bob Jones University in communications and dramatic production. She comes to Sterling from Ouachita Baptist University, where she taught various acting and directing courses.  
Brian Sechrist comes to Sterling as assistant professor of theatre design. Sechrist received his Bachelor of Arts in Technical Theatre from the University of Alaska (Anchorage) focusing on lighting design and technical direction. Additionally, he received his Master of Fine Arts in lighting design and sound design from the University of Alabama. Sechrist comes to Sterling from Kentucky Wesleyan College where he taught courses in theatre, production, stagecraft, stage electrics, sound design, and technology.
Tressa Weber comes to Sterling as assistant professor of health & human performance. Weber is familiar to Sterling College as the former manager of the Warrior Wearhouse. She earned her Bachelor of Science in Exercise Science from Taylor University and has recently finished her Master of Science in Nutrition and Human Performance from Logan University. Weber is also a certified strength and condition specialist.
Sterling College is a Christ-centered, four-year college located in Sterling, Kansas, with a mission to develop creative and thoughtful leaders who understand a maturing Christian faith. For more information, visit www.sterling.edu.