Sterling College welcomes new staff members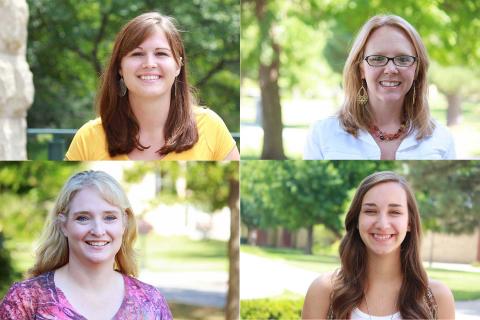 Students returning from summer vacation will be greeted by new faces in the offices of Sterling College. Four new employees have begun working for the College over the past month including Ashley Barnes '12, Kendra Grizzle, Sara Hiatt and Courtney Huber '13.
The Office of Marketing and Communications welcomed Barnes and Huber to the team. Barnes will be working as the public relations coordinator, focusing on external relations, guest and conference services, and SC's social media presence. She comes to Sterling College from New Life Church in Colorado Springs, Colo., where she was in charge of local ministries. Barnes holds a B.A. in Biblical Studies from Sterling College.
"Ashley's job involves a wide array of responsibilities. Her experience in public relations and event planning has allowed her to quickly integrate into the marketing team," said Karin Swihart, director of marketing and presidential communications.
Huber is filling the role of creative design coordinator. She will work on producing creative print and online marketing materials for the College. She will also maintain the stylistic look of the College's website. She graduated from Sterling College summa cum laude with a B.F.A. in Art and Design: Graphic Design and previously worked as a student assistant for the marketing office.
"Courtney having experience with the Sterling College visual identity guide and our faculty and staff has been very beneficial to the office. Her great creativity and innovative design skills will keep us progressing towards the latest industry standards. It is also exciting to have a graduate of our growing art department join us on staff," said Swihart.
Grizzle joined the Office of the Registrar as assistant registrar. She will work with athletic eligibility and answer questions from students and parents. She previously worked for Central States Alfalfa in accounts receivable and customer service. Grizzle graduated from Texas A&M with a B.S. in Journalism. She lives in Lyons with her husband and three children.
"Kendra's help in preparing for the fall semester has been greatly appreciated. She is learning the computer system quickly and her attention to detail is exceptional," said Registrar Janet Caywood.
The Office of Financial Services welcomed a new student accounts coordinator, Sara Hiatt. She comes to Sterling College from USD 309 Nickerson where she worked in the payroll clerk office as accounts payable. She has a B.S. in Human Development, Family Studies and Community Services from Kansas State University.
"We are happy to have Sara at Sterling College. Her background in accounting makes her a great fit for student accounts coordinator," said Michelle Hall, controller. "She has experience in almost every aspect of the job."
Sterling College is a Christ-centered, four-year college located in Sterling, Kan., with a mission to develop creative and thoughtful leaders who understand a maturing Christian faith. For more information, visit www.sterling.edu.
Cutline: Photos from left to right Ashley Barnes, Kendra Grizzle, Sara Hiatt and Courtney Huber.