Sterling College welcomes Sheffield for Peacemakers Convocation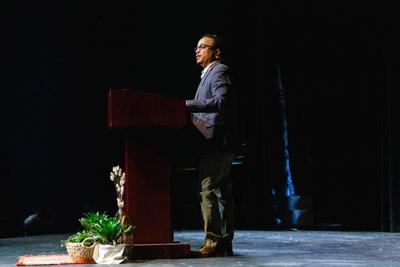 Sterling College held the privilege of hosting DeLano J. Sheffield, nonprofit leader based in Kansas City, for the College's annual Peacemakers Convocation on Feb. 4. Sheffield brought a message of encouragement and exhortation to campus with a reminder to have "gracious eyes" as we interact with the world around us.
"DeLano is an amazing pastor and leader making an incredible difference in the organizations he serves and the community he lives in. It was a privilege to host him for the 8th annual Peacemakers Convocation and his excellent lecture and Q&A stands in the rich tradition of the speakers who came before him," said Paul Brandes '11, associate vice president for student life and chaplain.
DeLano J. Sheffield is the Business Resource Specialist for Goodwill of MoKan where he connects to people on the fringes, training them to reach their full potential through learning and the power of work. He began his career as an architectural engineer then went on to attend seminary. In every part of his life, he finds ways to infuse theology into vocation, and strengthen practical connections of faith and daily activity. DeLano lives in Kansas City, Mo.
The Peacemaker's Convocation seeks to thoughtfully engage the important conversations of race and cultural diversity, and has featured speakers in the past such as Nikki Lerner, Dr. Kneeland Brown, Marvin Daniels, Christen Price and Dr. Hence Parson. 
Sterling College is a Christ-centered, four-year college located in Sterling, Kansas, with a mission to develop creative and thoughtful leaders who understand a maturing Christian faith. For more information, visit www.sterling.edu.