Students engage with social media strategist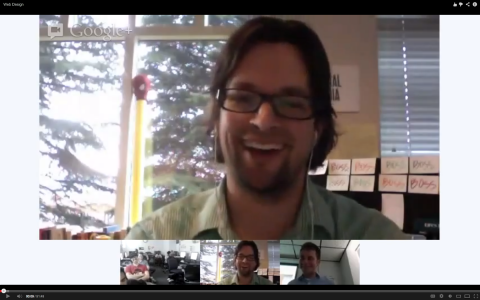 Wednesday, April 10, 2013
In Matt Ehresman's Web Design class, technology was not only the foundation for the course material, but was also used as a creative teaching method. Ehresman, lecturer in communications, connected the students in his class with Sam Hoover, assistant manager of social media strategy for Focus on the Family, through Google+ Hangout, a video chat and conference service.
Hoover joined the class for an evening, speaking about how both businesses and brands can use social media when building web pages for future clients and employers. Ehresman, who also serves as the web marketing manager at Sterling College, worked with Hoover previously at Focus on the Family, an organization focused on providing relevant Christian advice on marriage, parenting and other various topics. Hoover was chosen to speak to the class because of his knowledge of in-depth strategies for social media practices.
"Focus on the Family has a very solid online presence, and Sam has played a huge role in their success," said Ehresman. "I think it was very valuable for the students to hear from someone in the industry who is progressive in coming up with new ways to engage with new audiences online."
The purpose of the Web Design class is to gain understanding in web design, but the students are also expected to learn about online marketing, including the role of social media.
"This semester we have been talking about the details of how to write web coding, but this experience was a fun and practical lesson about the importance of consistency within a brand," said junior Kara Stineman of Salina, Kan. "I think that Sam's advice will be helpful for me in the future as I apply it to other areas of marketing."
Hoover is a contributing writer for "Dad Matters," a blog started through Focus on the Family written by dads to encourage other father figures in their faith journey. He has also helped with the social media strategy for Herschend Family Entertainment Corp., Kanakuk Kamps, the Radio City Christmas Spectacular and many other companies.