Students Finish Third in Kansas Athletic Training Quiz Bowl Competition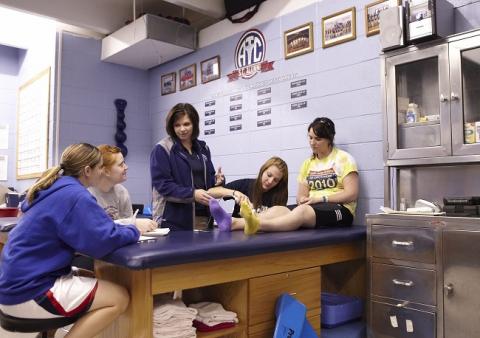 Thursday, December 15, 2011
Nine students and three faculty from the Sterling College Athletic Training Education Program attended the Kansas Athletic Trainer's Society state meeting on November 6 at Kansas State University and won third place in the Kansas Athletic Training Quiz Bowl Competition.
The first ATEP Quiz Bowl team from Sterling College secured third place in the tournament. Team members were Dani Burk of Wichita, Kan., Jordan Getting of Hutchinson, Kan., Kerby Rice of Athol, Kan., and Christina Smith of Overland Park, Kan. First and second place winners were Fort Hays State University and the University of Kansas. 
While at the conference, participants learned about new developments in topics such as concussions, ImPact Concussion Software, and Sickle-Cell Disease recognition. Students also participated in a business luncheon where they discussed building a good résumé and interview skills and getting involved as young professionals. Sterling College plans to continue attending the annual conference to help their students network and build relationships with fellow athletic trainers before graduation.