Students Gearing Up for Homecoming Musical at Sterling College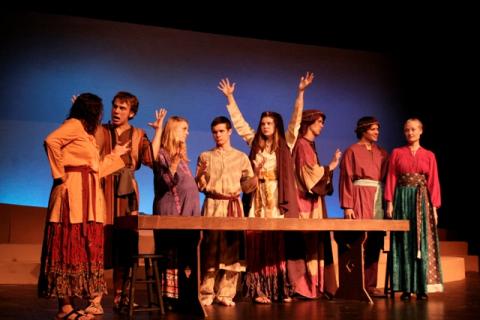 Thursday, October 6, 2011
Sterling College's homecoming musical, Children of Eden, will take place in Culbertson Auditorium, October 13-15, at 8:00 p.m. on the Sterling College campus. This musical is noteworthy as it is the last musical production by the Gordon Kling and Diane De Franco-Kling as they are retiring at the end of the academic year.
Gordon Kling began directing musicals at Sterling in the fall of 1968. Since then, he and Diane, who joined the department in 1972, have directed, choreographed, and designed costumes for the theater program for over 40 musicals.
"They have done an amazing job building the theatre program here at Sterling College," said President Paul J. Maurer. "They are always so generous with their time and talents during the musicals and plays. They made the theater department what it is today, and their leadership will be greatly missed."
The musical opens with the creation story from the book of Genesis. Adam and Eve convene with the Father and live in the Garden of Eden until Eve eats the forbidden fruit from the Tree of Knowledge of Good and Evil .They are banished from the garden, where their family grows with Cain, Abel, and Seth. Eve sees the same rebellious spirit in Cain that she saw in herself upon eating the fruit. The first act continues to investigate the strain of the consequences of sin, as the characters learn to cope in this new environment. 
The second act tells the story of Noah and the ark. Noah and his sons build the ark, and the animals return to board it. Another story line focuses on the conflict between Noah and his youngest son, Japheth. Japheth is unhappy with the wives that Noah has arranged for him. He wants to marry the servant-girl, Yonah, but she bears the mark of Cain. The story elaborates on the concept of free will, and the conflict the Father has with allowing his creation to control its fate.
The students and faculty in the theater and music departments have been working together to produce the show. Those in the cast have dedicated over 100 hours each to the production. Matt Hastings of Independence, Kan. will play the Father, David Ireland of Norco, Calif. as Adam and Noah, Phil Taylor of Norco, Calif. as Cain and Japheth, Shiloh Duff of Scott City, Kan. as Abel and Ham, Ryan Ehresman of Wichita, Kan. as Seth and Shem, Kaedra Dixson of Atwood, Kan. as Eve and Mama, Tillie Wilbeck of Inman, Kan. as Yonah, Larissa Versaw of Canon City, Colo. as Aphra, and Samantha Davison of Wichita, Kan. as Aysha.
Other cast members include Paul Brecht of Manhattan, Kan., Brandon Hoesli of Salina, Kan., Ben Jones of Sterling, Kan., Cody Martin of Hutchinson, Kan., Travis Norton of Libral, Kan., Stuart Parman of Arkansas City, Kan., Shane Rogers of Wichita, Kan., Taylor Stucky of Pretty Prarie, Kan., Nathan Sullivan of Wichita, Kan., Nathan West of Oklahoma City, Okla., Jamie Fitzgerald of Liberal, Kan., Rachel Gardner of Topeka, Kan., Ashley Hasart of Norco, Calif., Greta Larson of Clay Center, Kan., Mandy Lee of Tulsa, Okla., Kayla Miller of Nickerson, Kan., Chelsey Moore of Wichita, Kan., Gabrielle Reeves of Haysville, Kan., Kacie Rogers of Wichita, Kan., Cara Spencer of Lyndon, Kan., Raven Taylor of Wichita, Kan., Kristen Wiens of Nickerson, Kan., Chloe Wootton of Norco, Calif., and Amanda Xydis of Ann Arbor, Mich. Young cast members include Bryson Brownlee as Young Cain, Macy Brownlee, and Isabel Brownlee, all three children of Larry and Amy Brownlee of Sterling, Kan., Benjamin Pattison as Young Abel and Jayson Harding, both sons of Professor Felecia Squires of Sterling, Kan.
Children of Eden is based on a concept by Charles Lisanby, the book by John Caird, with music and lyrics by Stephen Schwartz. The orchestrations are by Bruce Coughlin and Martin Erskine. Schwartz also wrote the music for Godspell, Wicked, and Pippin. Children of Eden is presented through special arrangement with Music Theatre International.
Seating is reserved, and doors open at 7:30 p.m. Tickets are available in the Sterling College Box Office beginning October 10. The box office is open Monday through Friday from 1-5 p.m., and at 7:00 p.m. until show time on performance nights. Ticket prices are $8 for adults, and $5 for students, children, and senior citizens. Contact the box office for more information, (620) 278-4279.