Students sing at Lincoln Center in New York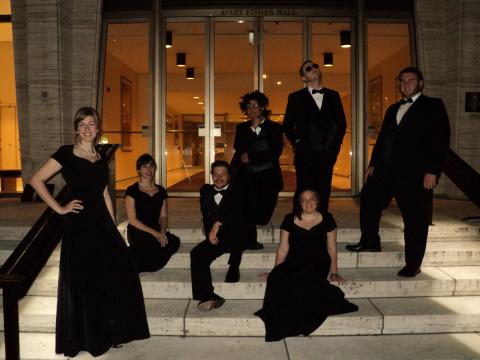 Seven students celebrated Memorial Day by performing at Lincoln Center's Avery Fisher Hall along with approximately 300 singers from colleges and churches around the country.
The Sterling College Choirs were invited to participate in a performance of "The Music of Joseph Martin" on the Distinguished Concerts International New York Concert Series in New York City. Martin worked with Sterling's choirs during his time on campus as the visiting composer for the Second Annual Composer Festival held at Sterling College in October 2011.
Sterling College Highland Singers and Sterling College Chorale were represented by: Emily Konrade of Spearville, Kan., Samantha LeFils of Wakarusa, Kan., Stuart Parman of Arkansas City, Kan., Michael Redondo of Mira Loma, Calif., Cara Spencer of Lyndon, Kan., Taylor Stucky of Pretty Prairie, Kan., and Phillip Taylor of Norco, Calif. The students traveled with Dr. Brad Nix and Dr. Laura Bateman, associate professors of music. Once in New York, they rehearsed with the other singers and Martin, who conducted the concert, for about 10 hours during their five day stay.
Martin is recognized throughout the United States for his many choral compositions, both sacred and secular, and is published by numerous publishing houses. Over a thousand compositions are currently in print and the list continues to grow.
Nix said, "The students did a fantastic job and had a great time. It was an honor to be invited by Martin because it shows the level of trust he has for the choral division of the Sterling College Music Department."
Dr. Jonathan Griffith, artistic director and principal conductor for DCINY said, "The Sterling College Choirs received this invitation because of the quality and high level of musicianship demonstrated by the singers and the exceptional recommendation given by Mr. Martin. It is quite an honor just to be invited to perform in New York. These wonderful musicians not only represent a high quality of music and education, but they also become ambassadors for the entire community. This is an event of extreme pride for everybody and deserving of the community's recognition and support."
DCINY is a production company based in New York City. Their concert series includes choral and instrumental concerts in world-class venues including Carnegie Hall, Lincoln Center's Avery Fisher Hall and Alice Tully Hall, and Disney Concert Hall in Los Angeles. They focus on the educational process while upholding a high performance standard and provide educational and performance opportunities including select solo performances, rehearsal audit, conductor mentoring and debut performances to ensembles and conductors of distinction.