Sunderland Foundation awards $600,000 to Sterling College campaign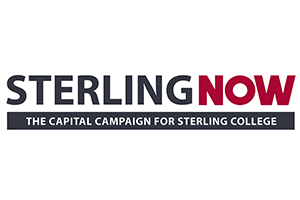 The Sunderland Foundation has awarded $600,000 to Sterling College for the SterlingNOW Capital Campaign. The grant will support the campaign's $22 million goal to upgrade science and academic facilities and to expand the Gleason Physical Education Center.
"The Sunderland Foundation has been extremely generous to Sterling College in the past, and we are grateful for their support for the SterlingNOW campaign. By investing in these building projects, the Sunderland Foundation will enhance the educational experience for our students. Their donation is a boost to the campaign and all of those involved," said Scott Rich, president of Sterling College.
The Sunderland grant advances Sterling College toward a challenge goal set by the J.E. and L.E. Mabee Foundation in October 2017. The Mabee Foundation will award the final $2 million for the building projects of the SterlingNOW campaign when the College raises $20 million by Oct. 10, 2018. As of April 9, Sterling needed an additional $3.6 million to meet the challenge.
The SterlingNOW Campaign has three main initiatives: upgrading science and academic facilities, renovating and expanding the Gleason Physical Education Center and growing the endowment. All three objectives center around Sterling College's strategic plan, including support for its new master's programs in athletic training and sports ministry.
In previous gifts to Sterling College, The Sunderland Foundation invested in upgrades to Culbertson Auditorium and the renovation of Cooper Hall.
More information on the SterlingNOW Capital Campaign can be found at sterling.edu/SterlingNOW.
Sterling College is a Christ-centered, four-year college located in Sterling, Kansas, with a mission to develop creative and thoughtful leaders who understand a maturing Christian faith. For more information, visit www.sterling.edu.