Swartz uses freelance to enhance curriculum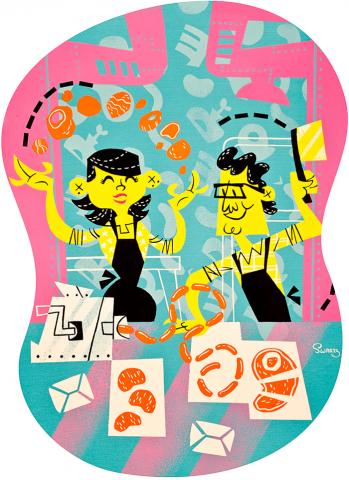 Assistant Professor of Art Daniel Swartz illustrated an article in the April 2013 issue of Columbus Monthly magazine about fun and creative date locations in Columbus, Ohio. Swartz's illustrations, done in acrylic, highlighted a butchering class and a Latin dance class. He used the freelance job as an example for his students at Sterling College.
"I always show my students the processes and techniques I use when creating illustrations," said Swartz. "I learned so much about artist/client relations and how to be a freelance artist from my professors that were working in their fields. I want to pass that along to my students to give them an idea of how to work with a client before they get their first gig."
Through the duration of the project, students were able to see how an idea develops beginning with the client's brief, thumbnails, sketches and then the finished paintings in various stages. The experience culminated in the print edition of the magazine being released to newsstands for the students to see the finished work on the printed page.
Swartz has been working as a freelance illustrator since 2003. He has worked for a variety of clients in both adult editorial and children's markets.
Columbus Monthly highlights the arts, culture and restaurants of Columbus, Ohio. Read the article on Columbus Monthly's website.