Swartz's work accepted into art show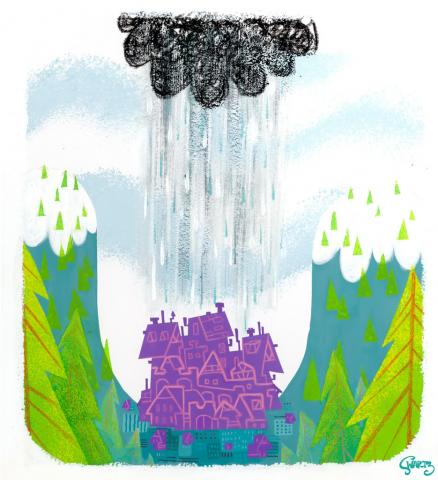 Wednesday, January 16, 2013
Assistant Professor Daniel Swartz was recently accepted into the Society of Illustrators of Los Angeles exhibit in the children's market category. His work, "The Sad Little Town," will be on display at Gallery Nucleus in Alhambra, Calif.
Out of 1,100 entries, Swartz was one of approximately 190 artists accepted to exhibit his work in the show. Swartz has had digital illustrations accepted into two SILA shows previously, but will be exhibiting his first multi-media piece in this upcoming show. "The Sad Little Town" is the opening illustration from a recently released children's book, "Duckville," which Swartz illustrated through Wesleyan Publishing House.
The SILA exhibit is one of roughly four major illustration shows that take place each year and getting accepted is not a simple task. "It is pretty hard to get into the show, as the entrants are of high caliber," said Swartz. "A lot of very good pieces don't make it into the shows because they are looking for exceptional and unique work, not just 'very good.' It is an honor to be recognized amongst so many other skilled illustrators."
Mid-century illustrators such as Mary Blair, Tom Oreb, and Alice and Martin Provenson have been integral influences in Swartz's work. His style of expression can be described as retro-modern, and he works mostly in acrylic and colored pencil.
The SILA exhibit opens March 8 at Gallery Nucleus. More information about the exhibit can be found at si-la.org.