Talmon Bell Chair of Mathematics Hired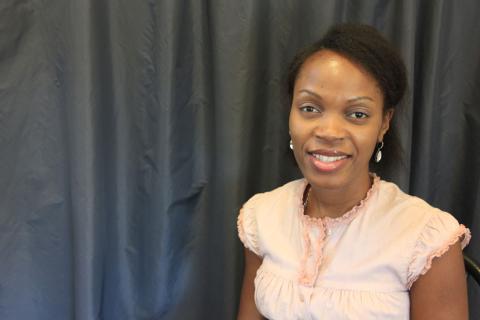 Dr. Adebukola Gbade-Oyelakin has been named to the Talmon Bell Chair of Mathematics at Sterling College.
"We are very excited to have Dr. Adebukola Gbade-Oyelakin joining our faculty this fall," said Dr. Gregory Kerr, vice president of academic affairs. "She has a diverse academic background that will integrate well into our liberal arts curriculum."
Gbade-Oyelakin earned a B.S. in Mathematics from Salem College with minors in computer science and fine art. While in her undergraduate experience, she was captain of both the volleyball and tennis teams. She earned her M.A. in Mathematics from Wake Forest University and her Ph.D. in Mathematics from Howard University in 2011. Following graduation, Gbade-Oyelakin completed one year as a lecturer in mathematics at Howard University.
The endowed chair that Gbade-Oyelakin will hold is named in honor of Talmon Bell. Bell began teaching at Sterling College, formerly Cooper College, while he was a student. After graduating in 1895, he continued to teach at the College and served in multiple other capacities throughout his 56 years of service. He was head of the mathematics department beginning in 1904, treasurer of the institution, dean of men, and interim president from 1909 to 1910. Upon retirement in 1947, Bell was given the title Professor Emeritus.
Bell had three children who graduated from Sterling with bachelor's degrees in mathematics: Ruth '22, Lois '24 and William '26. Lois (Bell) Smith spent much of her life promoting quantitative literacy among young people through teaching at secondary schools and the University of Alabama Mobile. During this time, she stayed in contact with Bill Calderwood, friend of the family and former associate in the Office of Institutional Advancement at Sterling College.
"Talmon Bell gave a lot back to Sterling College," said Calderwood. "He had a large chicken house where he kept hens to lay eggs. When the College didn't have enough money to pay the professors, Bell used the eggs to help supplement his salary and give money back to the College. Ruth and Lois really wanted to honor their father's sacrificial service of over 50 years to Sterling College. Lois left her estate to Sterling College in memory of her father. The amount ended up being enough to endow a chair in his memory."
"The Talmon Bell Chair of Mathematics represents Talmon's dedication to serving Sterling College and Lois (Bell) Smith's lifelong passion for promoting numeracy," said Kerr. "Dr. Gbade-Oyelakin is ready to take on that charge as we begin the Fall semester."
Gbade-Oyelakin will be joining Assistant Professor Megan Fraley who began working at Sterling College one year ago. Together they have the strongest academic credentials in the history of the department.