Theatre presents "Medea"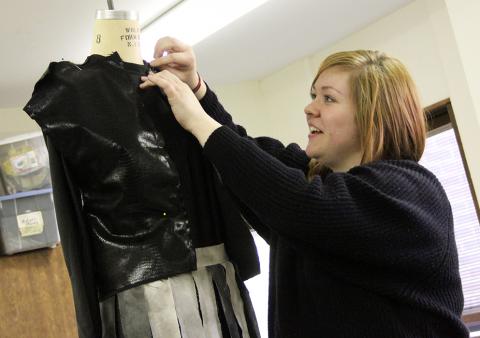 Friday, February 22, 2013
The renowned 5th century Greek tragedy "Medea" is transformed into a futuristic production for this year's Sterling College spring play. Under the direction of Assistant Professor of Theatre Matthew Winning, the show will open Thursday, Feb. 28, at 8 p.m. in Culbertson Auditorium and will run through Saturday, March 2. The production is intended for a mature audience and is not recommended for children under the age of 12.
Written by Euripides in 431 B.C. and translated by Rex Warner, the play centers around a heroic but vengeful Medea who unleashes retribution on her enemies. Medea is recognized in theatre as one of the most powerful female roles, demonstrating characteristics of justice and revenge. Taking a unique approach to the original production, Winning has chosen to change the framework of the play to the future instead of the past. Set in 3050 A.D., the Greeks are hybrids between men and machines.
"I wanted students to see how Greek tragedies, although written over 2,000 years ago, are still applicable to the world we live in," said Winning. "The themes you find in Medea translate to today as easily as they do to ancient Greece."
In the play, Medea finds the only world she knows to be endangered as she takes revenge against her husband, Jason, who betrayed her. Lonely and abandoned, Medea releases her horrific vengeance, becoming an assassin and making victims of her own children.
The cast includes Jackie Wilkerson of Wichita, Kan., as Medea, Shiloh Duff of Scott City, Kan., as Jason, Cody Martin of Hutchinson, Kan., as Creon, Shane Rogers of Wichita, Kan., as Aegeus, Darsha Bechard of Belleville, Kan., as the nurse and Taylor Stucky of Pretty Prairie, Kan., as the tutor. The chorus will highlight the talents of Mandy Lee of Tulsa, Okla., Chelsey Moore of Wichita, Kan., Chloe Wootton of Norco, Calif., Cameron Pratte of Lawrence, Kan., Patrick Wright of Clearwater, Kan., Elijah Klein of Wichita, Kan., Ashley Aulbach of Haysville, Kan., Brianna Fuchs of Aurora, Colo., Josh Matthews of Davenport, Iowa and Cody Green of Wichita, Kan.
Tickets will be available at the box office on performance nights. The box office will open at 7 p.m. and doors will open at 7:30 p.m. General admission is $5.