Third Annual Composer Festival Features Jackson Berkey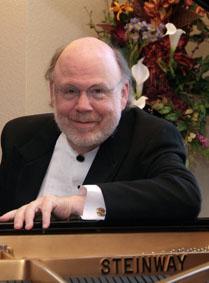 Thursday, September 20, 2012
The Sterling College Chorale and SC Concert Choir have been preparing for the 3rd Annual Composer Festival, scheduled for Monday, October 1, at 7:30 p.m. at the Sterling United Presbyterian Church. This year's featured composer will be Jackson Berkey, an internationally recognized composer and pianist.
The public is invited to a concert featuring Berkey's music, which will be sung by the Sterling College choirs, accompanied by Berkey and directed by Almeda Berkey, Jackson's wife.
On October 1 at 9:00 a.m., Berkey will give a lecture on composition and arranging music. A second lecture held at 4:10 p.m. will focus on the music industry and publishing. The lectures will take place in Wilson Hall and are open to the public.
Associate Professor of Music Brad Nix is organizing the Composer Festival. He said, "Berkey is a fabulous composer with fresh music that is historically rooted. He seems to show and have a command of many different styles that makes his music very American with a jazz and folk-spirited sound."
Berkey has published over 400 titles for various groups of musicians including choral, solo vocal and instrumental, chamber ensemble, band and orchestral works, concerti and works for chorus and orchestra. Recently, Berkey has been writing major choral/orchestral works performed at Carnegie Hall in New York City.
His works have also won several awards including the Nebraska Individual Artist Fellowship for Performing Arts Distinguished Achievement in Composition Award, First Prize in the New Music for Young Ensembles Composition Contest in New York City, First Prize at the Alienor Harpsichord Competition in Hilton Head (NC), annual ASCAP Awards and award-winning video scores. He was also named to the International Roster of Steinway Artists in 2009.
Berkey is currently composing "24 Nocturnes," one in each key. These works draw inspiration from composers such as Stravinsky, Rachmaninoff, Debussy, Barber and Copland. The public may recognize his name from his previous work with Mannheim Steamroller as the keyboardist for 38 years, American Gramaphone and SDG Records.
For more information about the 3rd Annual Composer Festival, contact Brad Nix at (620) 278-4382 or bnix@sterling.edu.