Three alumni hired into Admissions Office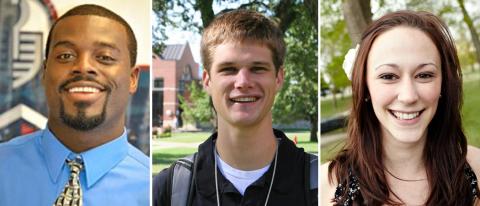 No one knows a college as well as its alumni. That is the theory Sterling College used this summer in hiring three alumni into its Admissions Office. 
Kacie (Rogers) Hastings '12 and Cecil Smart '10 began working earlier this month, and Jordan Stineman '12 will join them in August.
Hastings was hired to recruit students for the theatre, music, art, English and communications departments. She worked in the admissions office as a student for the past four years and is well-acquainted with the admissions process. Hastings was an active member of the choir and helped plan choir tour for the past two years. She graduated from Sterling with a bachelor's in Christian ministries with a concentration in youth ministry.
"Kacie's experience in the Admissions Office is a great asset as she begins as a full-time employee," said Dennis Dutton, director of admissions. "She has experience working with prospective students and answering questions that they have about Sterling and its various programs. We are very excited to have Kacie as a full-time counselor."
Stineman, also hired full-time, spent much of his college career involved in residence life and the missions program. His bachelor's degree is in business and Christian ministries, two of the areas he will be focusing on through his recruitment efforts at Sterling. His background has also prepared him to build church relationships.
"Jordan is a great ambassador for both Sterling's business and theology and ministry programs," said Dutton. "His experience with the missions program will also help area pastors understand the heart of Sterling College and our mission of servant leadership."
Smart, hired to recruit more students from urban areas, has a degree in sports management. His part-time position in the Admissions Office allows him to also serve as the assistant resident director for Kilbourn Hall and continue his position as an assistant basketball coach.
Tina Wohler, vice president of admissions and student life, said, "Students from urban areas have unique questions about living in rural Kansas. Cecil enjoyed the transition from an urban setting to Sterling College and can help prospective students from larger cities understand the differences and benefits."