Three employees honored for 10 years of service to Sterling College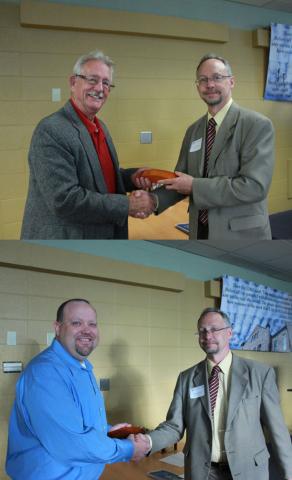 Will Best, Ryan "Pete" Manely and Clay Thomas were honored for a decade of service to Sterling College at the annual Kickoff Banquet on Thursday, Aug. 8.
Best began his career at Sterling College as a full-time professor and has continued serving the College as an adjunct. He has taught in a variety of departments: language and literature, history and theology and ministry.
"Will has a calm, thoughtful demeanor and is willing to help as needed. Students often say, 'Best is the best teacher here.' I believe that he is a shining example of Christ's love to the campus and we are thankful for his service. He is much appreciated here," said Dr. Gregory Kerr, vice president for academic affairs.
During Best's time at Sterling College, he has served on student-focused committees, as an adviser for many student organizations including Student Government Association, the English Blend and class organizations. He has led mission trips to Belize, Croatia, Guatemala and India, helping students with fundraisers in every way possible.
He is married to Judith Best, who also taught at Sterling for many years in the education department.
Manely currently serves Sterling College as an associate professor of exercise science, director of athletic training, co-chair of the Department of Exercise Science and associate dean for the School of Professional Studies. He also serves as the faculty athletics representative.
"Pete is our go-to person for anything in exercise science or athletic training. The concern and care he has for prospective students has helped his department grow. The word 'family' describes the Athletic Training Program well because Pete and his team have worked hard to make it a strong family unit. They pray for each other and gather for meals. Pete epitomizes characteristics of servant leadership every day," said Kerr.
"Even with the multiple titles that Pete carries, he always seems to have a positive, team player attitude that I and his co-workers deeply appreciate," said Kerr.
Thomas serves SC as the director of the physical plant. When he started working at the College, he was hired as the electrician.
"Clay's oversight of maintenance, housekeeping and transportation may not always be in the spotlight of Sterling College, but he and his team keep us running. He has a willingness to serve the faculty and staff with a positive attitude and cares about the well-being of the institution," said Scott Rich, president.
Thomas is also a part of the Emergency Preparedness Committee and an active member of the foster student program. All three of his children will soon be alumni of Sterling College – Kurt '09, Sarah '12, and Joshua '14.  Thomas plays in the City of McPherson Pipe Band at the annual Keynote convocation and graduation, and he is an active member of the Shriners.
Sterling College is a Christ-centered, four-year college located in Sterling, Kan., with a mission to develop creative and thoughtful leaders who understand a maturing Christian faith. For more information, visit www.sterling.edu.
Cutline: Will Best and Pete Manely were honored by Dr. Gregory Kerr, vice president for academic affairs, for ten years of service to Sterling College at the annual Kickoff Banquet on Aug. 8. Clay Thomas (not pictured) was also honored by Scott Rich, president.