Three SC Alumni Battle for 2A Basketball Title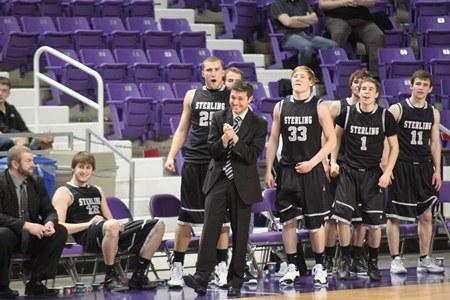 Wednesday, March 14, 2012
College scouts attend high school basketball games to find recruits, but after the KSHSAA 2A Boys Basketball Tournament, high school athletic departments may want to consider scouting the Sterling College campus for high school basketball coaches.
Three coaches whose teams made it to the Elite Eight – Dale Deighton '87 of Meade High School, Derek Schneider '07 of Sterling High School, and Doug Wilson '92 of Ell-Saline High School – were SC Alumni. 
The first coaches to battle in the tournament were Deighton and Wilson, when Meade defeated Ell-Saline on March 8 with a score of 51-28. The Meade Buffaloes then trampled Madison/Hamilton High School 71-50 on March 9, and landed in the state championship. There Deighton faced his second SC graduate, Schneider, and the Sterling High School Black Bears. Schneider's team had defeated Jefferson County North High School and the defending state champions, Berean Academy, to make it to the championship round on March 10.
The undefeated Buffaloes gave a strong showing in the first half which ended with the Black Bears up 30-29. But Schneider's Black Bears outscored Deighton's Buffaloes 41-20 in the second half, ending the game with a Black Bear victory of 71-49. This is Sterling High School's first state basketball championship.
"Winning the championship was our goal when the season started," said Schneider. "The guys worked really hard in their individual off-season training and weight lifting. After winning the invitational at the College we knew we had a pretty good shot at going to state. I'm proud that they were able to win. It's really awesome for the guys."
Photo courtesy of MakeItSnappy! Photography - Staci Fulbright