Track Serves City of Joplin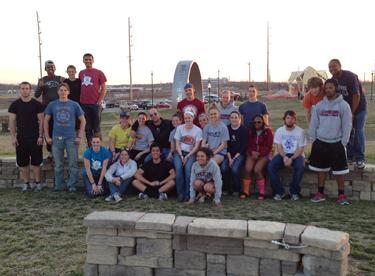 The Warriors Track and Field team traveled to Joplin, Mo., over their spring break to help with the continued clean up and rebuilding efforts from the 2011 tornado that killed 161 people and left a trail of destruction over 22 miles long. The team worked with Joplin Family Worship Center and their Hope4Joplin organization to clean up several neighborhoods that the church has adopted as well as help put up siding on a house for a family who lost their home in the tornado.
The 29 member group included coaches, athletes and Athletic Director Gary Kempf. Joplin Family Worship Center provided room and board for the team during the week. Semi truck trailers that had been converted to sleeping units were home and great food prepared in the church kitchen provided energy for the group.
"We had a great week together as a group: serving, training and growing in our faith and our relationships with others. We have an amazing group of individuals that make up our track team family, and for them to give up their spring break to work and serve a community that still to this day needs help was a great thing to be a part of," said Head Coach Jack Dillard.