Trotters receive 2014 Distinguished Service Award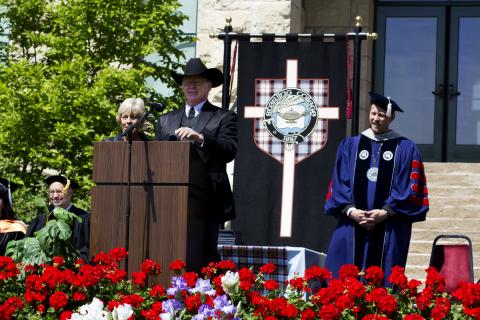 The 2014 recipients of Sterling College's highest alumni award, the Distinguished Service Award, have devoted their lives to serving God and the health and well-being of others. R.C. "Corky" fs69 and Mary (Creswell) '69 Trotter were recognized for their service at Sterling's 122nd commencement ceremony held on Saturday, May 17, 2014.
The Distinguished Service Award is the highest alumni honor presented. It honors and recognizes a lifetime of service that exemplifies the purposes for which Sterling College exists—exceptional contributions to society, distinguished professional accomplishment and outstanding leadership and character. The recipient or recipients are chosen by vote of the Alumni Council and Sterling College's Board of Trustees.
"The Trotters are known throughout their community as genuine, caring people who can be called upon whenever needed. They are loving parents to their own children and to all those they encounter. Energized to serve God in their daily lives, the Trotters have been living in such a way as to clearly point to Jesus in all that they do," said President Scott A. Rich.
"We are really honored by this award. ...The honor in this award isn't so much in receiving it as in the institution that's giving it to us. Sterling College just isn't an institution, it's an idea that you can weld Christian faith and high academic standards and they both can flourish. And for that, we are honored to be a part of this award," said Corky upon receiving the award.
Corky and Mary Trotter, of Dodge City, Kan., met while students at Sterling College in the late sixties and married in 1969. The Trotters are second-generation alumni and two of their children attended Sterling College—Shannon Hare '96 and Courtney Bauer fs98. Corky was a Sterling College Trustee from 1988-1990.
Corky left Sterling College to earn his medical degree from University of Kansas Medical School, and Mary became a registered nurse at Grace Hospital School of Nursing. Corky also received a master's of education from Ball State University in 1977. The Trotters moved back to Kansas in 1977 and started the Family Practice of Western Kansas. It now has a staff of five family practitioners.
The Trotters have been involved in medical missions to Haiti, lectured at marriage seminars and worked with Youthquake, a youth crusade for middle school children in Dodge City.  They are heavily involved in the Dodge City Roundup Rodeo, for which Corky has served as the doctor for over 20 years and as the president for over 10 years. Mary has served as the coordinator for Tough Enough to Wear Pink, which has raised over $140,000 for cancer victims.