Two Employees Recognized for 30 Years of Service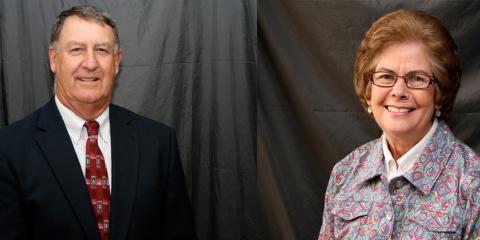 Wednesday, September 28, 2011
Two employees were recognized for 30 years of service at the annual Kick-Off Banquet at Sterling College. Marge Jones diligently worked in admissions for over 25 of those years, during which she processed approximately 5,000 deposits and 25,000 applications, worked with more than 350,000 enquiries, and generated over 2,000,000 pieces of mail for Sterling College.
 Coach Lonnie Kruse '71 has just as many accomplishments having coached over 800 women's regular season basketball games, worked with over 120 athletes, and won the KCAC Coach of the Year Award 12 times. Combined, Kruse and Jones have spent over 120,000 hours working to promote Sterling College. Their long-term commitment to Sterling College has provided stability during a time of growth.
Jones began working for Sterling in 1980 as the alumni office secretary. She moved on to work as an admissions secretary, transferred to the advancement office, and then returned to work in admissions. As the admissions office manager, Jones is the hub for student recruitment at Sterling College. She sends promotional materials to prospective students, receives and processes incoming college applications and tracks students in the admission process.
Marge has an amazing ability to multi-task; she can print mail, answer the phone, run a query on the computer and deal with people standing all around her desk all at once. And she does it all with a willing spirit and a terrific sense of humor," said Dennis Dutton, vice president of enrollment. Dutton has worked with Jones for 27 years. "Her commitment to her faith and devotion to Sterling College, her students and her mission are at the core of everything she does."
My favorite part of working at Sterling College is the people, especially in the admissions and advancement offices. They're like family," said Jones.
Kruse is the All-Time Winningest Women's College Basketball coach in Kansas history. In his 30 years at Sterling, he had 29 straight winning seasons. He was KCAC Coach of the year 12 times, led his team to 12 KCAC regular season championships and has a 664 – 197 career record. He has coached 65 First Team All-Conference players, 18 All-Americans, and 36 NAIA All-American Scholar Athletes.
Coach Kruse is a great coach. He challenges his players not just as athletes, but as scholars and Christians. His team is like family, and they support each other beyond their four years together at Sterling," said Gary Kempf, athletic director for Sterling College.
Kruse graduated from Sterling in 1971, with a bachelor's degree in health and physical education. While at Sterling he participated in basketball and track. He went on to finish his master's in health, physical education, and recreation from Wichita State University. He has also coached basketball at Norton High School, South Barber High School, and Sterling College.