Volunteers come together for fifth annual Love Sterling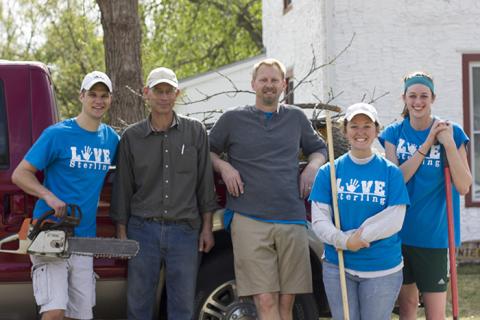 Wednesday, April 30, 2014
On Saturday, April 26, Sterling College students, faculty, staff and community members came together to complete service projects around town for the fifth annual Love Sterling event.
Approximately 200 Love Sterling volunteers worked 1,250 man-hours to complete about 30 projects. This year, projects included indoor and outdoor painting, raking leaves, cutting down trees, moving boxes, cleaning, moving a couple pianos and painting a mural by Sterling Food Mart.
"One of the beautiful things about Love Sterling is that it brings people whose paths may not normally cross together with one common goal – love your neighbor through service. It's a great feeling knowing that you're able to give back to the community that has given us so much," said Ashley Barnes, public relations coordinator.
Josh Hood, a Sterling College freshman, was instrumental in helping coordinate projects and supplies.
"After I found out about Love Sterling, I wanted to help out. Then all of a sudden, I found myself jumping in and realizing what it would take to make it happen. It involved a lot of time and effort to make sure it ran smoothly and effectively, but it went really well. I had a lot of fun running around and keeping up with all of the projects. One of the things that I really appreciate about Love Sterling is how cool it is to see how the College came together and served as the body of Christ. It was really important and a blessing to be a part of," said Hood.
Many people came together to support Love Sterling. Local businesses who donated toward the projects include Alden State Bank, Broadway Market, Corwin's Corner, First Bank, Home Lumber, JACAM, Reed Pharmacy, the SC Service Department and Shine: A Unique Salon. Lunch and dinner were provided by John Wilkey, Chartwells and The Cancer Mountain Run.