Warrior Baseball No. 23 in First NAIA Coaches' Top 25 Poll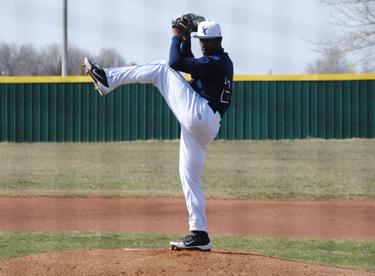 Sterling College is ranked No. 23 in the first edition of the 2013 NAIA Baseball Coaches Poll.  The poll was released Tuesday, March 26. The Warriors, the KCAC preseason number one, were ranked 15th in the Baseball Coaches' preseason poll, released on November 13.
Sterling currently sits atop the KCAC standings at 8-0, they hold an overall record of 23-6 and are undefeated (10-0) at home this season.  The Warriors are currently riding a 16 games winning streak dating back to March 2. 
Next for the Warriors is a two-game home series against Concordia (Neb.) on March 27 before resuming conference play against Friends on March 29.
For the second-straight season, Lee (Tenn.) claims the No. 1 ranking in the first regular-season edition of the coaches' poll. The Flames were awarded six first-place votes and 546 points. Coming in at No. 2 is fellow perennial power Oklahoma City with six first-place votes and 530 points. Cal State San Marcos, who was previously unranked, is No. 3 with six first-place votes and 467 points, while No. 4 Faulkner (Ala.) and No. 5 The Master's (Calif.) round out the top five with 466 and 464 points, respectively.
The poll's two remaining first-place votes went to No. 7 Lewis-Clark State (Idaho) and No. 10 Northwood (Texas).
In a poll that saw all 25 positions change hands, Faulkner, No. 11 Lubbock Christian (Texas) and No. 12 Bellevue (Neb.) boast the largest improvement as each team advanced five places since the Preseason Top 25. Conversely, Sterling (Kan.) fell the farthest within the poll, dropping eight places from No. 15 to No. 23.
In addition to Cal State San Marcos and The Master's, eight newcomers joined the Top 25: Northwood, No. 15 Cumberland (Tenn.), No. 19 William Carey (Miss.), No. 20 York (Neb.), No. 21 Campbellsville (Ky.), No. 22 Science & Arts (Okla.), No. 24 Bacone (Okla.) and No. 25 Lyon (Ark.). Lyon ends the longest drought amongst the newcomers with its last mention coming on March 28, 2007.
The following schools dropped out since the preseason poll: Madonna (Mich.) (No. 23), Lindsey Wilson (Ky.) (No. 12), LSU Shreveport (La.) (No. 2), Georgetown (Ky.) (No. 20), St. Francis (Ill.) (No. 19), Auburn Montgomery (Ala.) (No. 18), Doane (Neb.) (No. 23), Judson (Ill.) (No. 25), Point Park (Pa.) (No. 6) and South Carolina Beaufort (No. 21).
Thirteen of the 21 baseball conferences/independents/unaffiliated groups are represented throughout the Top 25, led by five squads from the Sooner Athletic Conference – Oklahoma City, No. 6 Rogers State (Okla.), Lubbock Christian, No. 14 Oklahoma Baptist and Science & Arts. The Southern State Athletic Conference is second with three teams, including two in the top five – Lee and Faulkner.
The poll was voted upon by a panel of head coaches representing each of the conferences/independents/unaffiliated groups. The second regular-season Top 25 will be announced on April 2.
For a complete ratings calendar, click here.
For more information on NAIA baseball, click here.