Warrior soccer players receive All-KCAC honors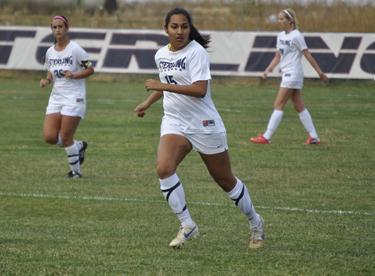 Five Warrior men's soccer players and five women's soccer players received All-KCAC honors.
Jalen Getting led the group as All-KCAC First Team performer. Jonathan Perdomo was named to the All-KCAC Second Team while Daren Casey, Eric Rodriguez, and Jason Prichard were named All-KCAC Honorable Mention.
Getting, a sophomore from Hutchinson, Kan. was the anchor of Sterling's defense this season. Not known for flashy play, Getting rarely makes a mistake and directs the Sterling defense from the center back position.
Perdomo scored three goals for Sterling this year out of the midfield and had six points. As one of Sterling's captains, Perdomo leads the Warriors on the field.
Casey is an offensive threat for Sterling even though he plays in the backline. With the ability to make runs forward, Casey scored a goal and had four assists for Sterling this season.
Rodriguez was a mirror image of Perdomo in the midfield this season. Like Perdomo, Rodriguez scored three goals and had six points for the Warriors this season.
As one of Sterling's forwards, Prichard has provided a consistent offensive attack for the Warriors. Prichard scored three goals and had two assists for Sterling for a total of eight points.
Kenya Renteria has been named the KCAC Newcomer of the Year in Women's Soccer, highlighting the five Lady Warriors to receive All-KCAC honors. Renteria was also named All-KCAC First Team along with Adriana Ortiz. Michelle Malette was named All-KCAC Second Team while Joanne Williams and Erica Nua were named All-KCAC Honorable Mention.
Renteria led Sterling in goals and assists on the season. Renteria collected 12 goals and six assists for 30 points on the season.
Ortiz was Sterling's main defensive force from the center back position. Directing traffic from the back, Ortiz was still able to make a few runs forward and scored two goals on the season for four points.
Malette stared beside Renteria in the midfield. A leader for the Lady Warriors, Malette scored nine goals and had three assists on year. A crunch time player, Malette also led the Lady Warriors in game winning goals with four.
Williams will finish her four year career at Sterling having earned All-KCAC honors in all four years. This season, Williams contributed on a Lady Warrior backline that featured three All-KCAC players.
Nua provided Sterling with excellent leadership from the backline. A tough defender, Nua made it extremely difficult for Lady Warrior opponents to work the ball down her side of the field.