Warriors compete in Sleet and Snow Swing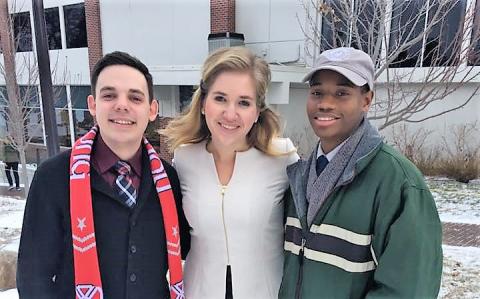 Tuesday, January 23, 2018
The Sterling College Forensics Team traveled to Concordia University Jan. 13-14 for the Sleet and Snow Swing. The trip to Nebraska proved fruitful for the three competitors, bringing home seven awards in total.
At the end of the first day's competition, Wesley Lowrey of Topeka, Kansas, earned fourth place in extemporaneous speaking. Stephen Jenkins of Topeka, Kansas, was awarded fifth place in persuasive speaking, and Dara Quastad of Inman, Kansas, placed sixth in the same category.
Day two of the Sleet and Snow Swing proved to be even better for Lowrey, collecting both third place in extemporaneous speaking and fifth place in impromptu speaking. In the persuasive speaking competition, Quastad finished third and Jenkins placed fourth.
Sterling College is a Christ-centered, four-year college located in Sterling, Kansas, with a mission to develop creative and thoughtful leaders who understand a maturing Christian faith. For more information, visit www.sterling.edu.