Weber joins Sterling College as director of development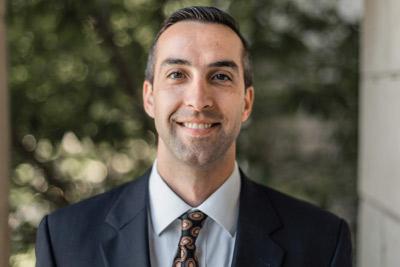 Sterling College has announced its new director of development, Aaron Weber. Weber joins the College's Office of Institutional Advancement where he will manage annual giving programs, including The Sterling Fund, and targeted campaigns for athletics, churches and companies.
"We are thrilled to welcome Aaron to the Sterling College team. He will handle advancement business operations and play an important role in creating pathways for alumni participation throughout campus. Aaron has a background and affinity towards private, Christian education and he has demonstrated servant leadership in his professional career and through his church involvement," said Scott Carter '88, vice president for institutional advancement and external relations.
"I am very excited for this opportunity Sterling has provided to continue to deepen relationships and ties to the local community that are so evidently strong already, along with the opportunity to challenge students as they figure out life and religion at such a crucial time in their lives," said Weber.
Weber graduated from Taylor University with a B.S. in Sports Management and he will complete his masters in sports management from Jacksonville State University this fall. He brings with him 10 years of business experience in the agriculture industry.
Weber and his family live in Sterling and enjoy the many events Sterling has to provide for the whole family.
Sterling College is a Christ-centered, four-year college located in Sterling, Kan., with a mission to develop creative and thoughtful leaders who understand a maturing Christian faith. For more information, visit www.sterling.edu.