White awarded 2017 Sterling College Alumni Award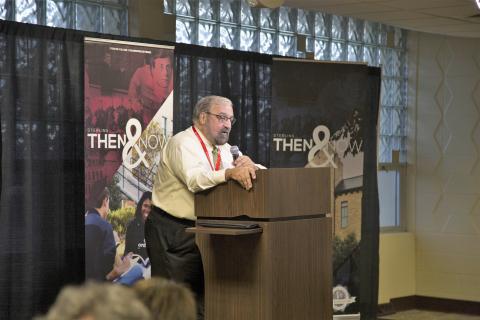 Wednesday, October 11, 2017
Former educator and coach Gary White '72 was awarded the Sterling College Alumni Award on Oct. 6, for his continual dedication to the College and his lifetime of service to the community. Presented at the Alumni Banquet and Award Ceremony, White was celebrated along with Distinguished Service Award winner John Wilkey '67 and Young Alumni Award winner Dr. Drew Miller '02.
After graduating at Sterling College, White would go on to become a teacher and football coach at USD 376 in Sterling. In 1982, White led the Black Bears to its first football state championship. White then transitioned to Sterling College and served as coach of the football team, assistant track coach and also served in the Student Life Office at Sterling College from 1984 to 1988. He later served as director of admissions at Marymount College and directed the enrollment efforts at Kansas Wesleyan University. White then joined USD 305 in Salina, retiring in 2017 as assistant principal at Salina South High School.
White holds a bachelor's degree from Sterling College and a master's degree in educational administration from Kansas State University.
The Alumni Award is presented annually to alumni who graduated more than 15 years ago and who has demonstrated sustained excellence in career, service to others and loyalty to Sterling College. The recipient or recipients are chosen by vote of the Alumni Council and Sterling College's Board of Trustees.