Wilson, Albright named 2023 Outstanding Graduates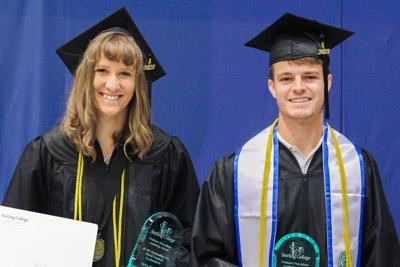 With years of hard work and service behind them, Sterling College seniors Taya Wilson of Sterling, Kan., and Tanner Albright of Kingman, Kan., were named the 2023 Outstanding Female and Male Graduates in conjunction with the Fran Jabara Leadership Award. 
The awards are given to two students who exemplify outstanding academic achievement, leadership skills and involvement, and who portray an enthusiastically Christian faith. They must have a cumulative GPA of 3.4 or higher and are voted upon by faculty and staff.
Wilson earned her Bachelor of Science in Sports Management: Coaching and Instruction and her Bachelor of Science in Exercise Science: Secondary Education, graduating with honors of summa cum laude and was a Kelsey Scholar. During her time at Sterling College, she was actively engaged in the campus community, participating in women's basketball and outdoor track and field. 
"The first thing that stands out to me about Taya is her servant's heart- she truly lives to serve others. You'd be hard-pressed to find an individual who is tougher, works harder, or is more competitive than her. Her toughness, work ethic, and competitiveness are not only displayed on the basketball court but cross over into academics, relationships, and her walk with Christ. She lives out her faith daily in how she treats others and puts everyone before herself. I am extremely proud of this young lady and all she has accomplished at Sterling College. She is a true leader and will thrive in whatever she does in life," said Head Women's Basketball Coach K.C. Bassett '07.
Albright completed his Bachelor of Science in Health Science: Pre-Physical Therapy, with honors of summa cum laude and was a Kelsey Scholar. He played on the men's golf team and served as team chaplain during the last two years for the men's golf team. 
"He is an unbelievable young man. Not only was he a great student and athlete, but a strong man of faith who I know has a heart for reaching other people. I know that he would do anything for his family and has been an invaluable resource as our team chaplain the last two years. Our team and I are better because he was a part of our family. I am so proud of the man he is becoming and will always consider him a friend," said Head Men's and Women's Golf Coach Tanner George '14.
The Professor Fran Jabara Leadership Award was established in 2002 by Professor Fran Jabara, former Dean of the Wichita State University College of Business Administration, and recognizes graduating seniors from four-year, private Kansas colleges who display exemplary leadership skills.
Sterling College is a Christ-centered, four-year college located in Sterling, Kansas, with a mission to develop creative and thoughtful leaders who understand a maturing Christian faith. For more information, visit www.sterling.edu.