Wisdom Literature class presents "Proverbs: A Compass for Daily Living"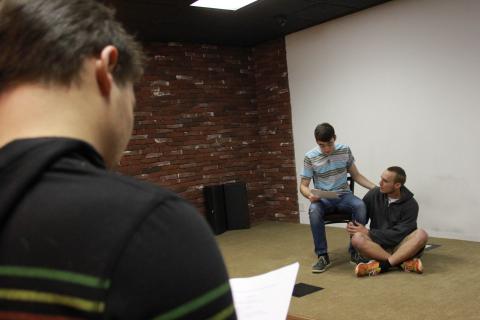 The book of Proverbs takes the stage in a production titled "Proverbs: A Compass for Daily Living," on Wednesday, April 17, in Cornerstone in the Sterling College Student Union, at 7 p.m. The theatrical production, written by Dr. Henry Lederle, professor of theology and ministry, is produced by the students enrolled in the Wisdom Literature class and directed by junior Phil Taylor of Norco, Calif. The free half-hour production is a family-friendly show and is open to the public.
The dramatic presentation is based on the biblical text of Proverbs and portrays various characters from the book and the topics with which they wrestle. The themes will be presented through employing various elements of humor, mime, speech, choir, role play and on-screen visuals.
The Wisdom Literature class decided to produce this show after realizing the difficulties of comprehending the variety of topics addressed in the book. The show journeys through Proverbs, but is rearranged thematically. The reorganized structure of the production aims to make the concepts of the book easier to understand for the audience.
The wisdom found in Proverbs is perennial," said Lederle. "Honoring God resounds through the 31 chapters, so I hope that the audience will be inspired and encouraged to read from the book of Proverbs more often and will thereby grow in their relationship with the Lord and act in life with greater discernment and wisdom."
Students participating include Jacob Blackwell of Salina, Kan., Courtney Brand of Evans, Colo., Ryan Bretches of Great Bend, Kan., Grant Brintnall of Bettendorf, Iowa, Alexandria Broeker of Washington, Mo., Dixie Carpenter of McCall, Idaho, Robby Hernandez of Stillwell, Okla., Mason Houghton of Olathe, Kan., Micah Mitchell of Westminister, Colo., Michaela Moore of Wichita, Kan., Blaine Pittman of Carlsbad, Calif., Joey Ramirez of Julesburg, Colo., Tate Strasner of Mount Hope, Kan., and Tyson Thrall of Granada, Colo.