Wise earns Ph.D. in Biochemistry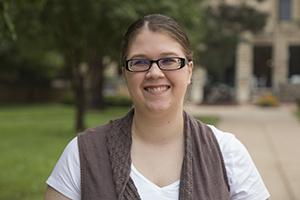 Tuesday, November 21, 2017
Sterling College Assistant Professor of Chemistry Randi Wise successfully defended her dissertation on Nov. 9, earning the title of Dr. Wise with her new degree in biochemistry. She completed her Ph.D. through Kansas State University.
"Randi has integrated into Sterling College so well this year, balancing her full class load and finishing her dissertation. To have completed her doctorate in biochemistry just four years after graduating from Sterling is a testament to her academic ability and tenacity. I know she is excited to be finished, and we congratulate her on this large accomplishment," said Dr. Ken Brown, vice president for academic affairs.
Wise has co-authored several papers about her dissertation research on metastatic breast cancer, most recently in the medical journal Breast Cancer Research and Treatment's November 2017 issue. She graduated from Sterling College in 2013 with a bachelor's degrees in chemistry and biology with minors in Christian ministries and mathematics.