Young Sterling College debate team continues to surprise competition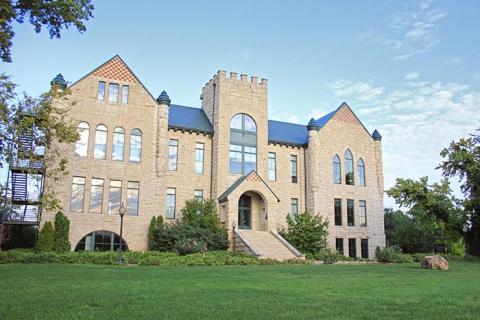 Tuesday, February 18, 2014
Despite the loss of many seniors last year, the Sterling College debate team continues to surprise the competition by regularly advancing past larger, more seasoned teams. Junior Brandon Hoesli of Salina, Kan., has led the team with numerous bids to the final rounds of both Lincoln-Douglas debate and Parliamentary debate.
At the Webster Gorlok Gala in St. Louis on Jan. 24-26, the Sterling College debate team met with over 500 competitors. The event is the largest debate tournament in the nation aside from the National Debate Tournament. Hoesli finished the preliminary rounds as the no. 1 seed with a perfect 6-0 record in Lincoln-Douglas debate. His arguments for and against "The United States Federal Government should substantially reform elementary and/or secondary education in the United States" led him to the octa-finals where he was upset by the 16th seed from Miami University (Ohio).
Teammates Cody Campbell of Buckeye, Ariz., and Darren Kootz-Eades of Great Bend, Kan., paired up in the Parliamentary debate tournament where they advanced to the final round of competition before dropping a close debate to Cedarville University. This was the first time that freshman Campbell and sophomore Kootz-Eades have teamed up.
"Cody and Darren's performance at the Gorlok Gala was remarkable. Not only had they never worked together before, it is also Cody's first season of debate competition. I expect these two have a bright future over the next few years," said Ken Troyer, debate coach.
The next weekend, the Sterling College debate team participated in Kansas Wesleyan University's Border Wars tournament on Jan. 31-Feb. 2. Hoesli added to his resume collecting the titles of top all-around debater in both Lincoln-Douglas and Parliamentary debate and top speaker in Lincoln-Douglas debate. He finished Lincoln-Douglas debate with a 6-1 record by defeating the University of Central Missouri on a unanimous decision. Kootz-Eades advanced to the quarterfinals where he lost in a split decision to UCM.
In Parliamentary debate, Hoesli teamed up with senior Benji Mast of Partridge, Kan., in the varsity competition amassing a 4-1 record before dropping a split decision to Oklahoma City University in the quarterfinals. Freshman Maddie Miller of Corona, Calif., and Campbell advanced to semifinals in junior varsity Parliamentary debate, eventually dropping to Cameron University.
"This season has been tremendous to watch. With such young debaters, I wasn't sure what to expect. However, the students have really worked hard and have had a great season. It will be interesting to see what the future holds for each of these individuals. I'm hoping Brandon sees the National Debate Tournament later this year," said Troyer.