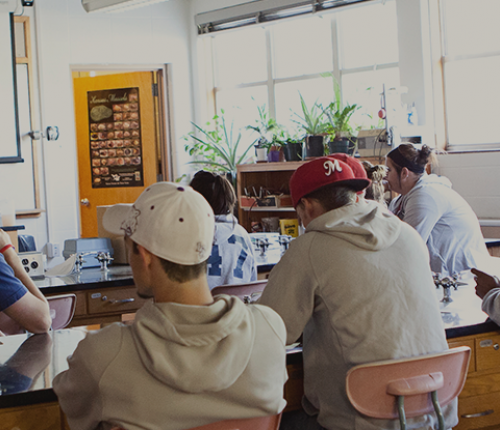 Biology Research
Students and faculty in the biology department are actively engaged in a variety of research projects.
Student research has been accepted for presentation at scientific conferences.  Student conference presentations have included:
Adam Haskin "Do urban and rural prairie dogs respond differently to disturbance?" 145th meeting of the Kansas Academy of Science
David Spencer "Impact of human disturbance on migratory waterfowl" 145th meeting of the Kansas Academy of Science
Leonore Enfield and Tyler Wise "Effects of prairie restoration on small mammals" Central Plains Society of Mammalogists
 
Students have the opportunity to be involved in research through academic courses and independent study.  Course projects have included investigations of regeneration in Planaria, patterns of wheat-freeze injury in Kansas, and water quality parameters in the Arkansas River.
Outside the classroom, a number of Sterling College students have been involved with an ongoing research project studying white-tailed deer at Quivira National Wildlife Refuge. Students have worked as field technicians and volunteers for spotlight surveys, distance-sampling surveys, and capture efforts. 
Students interested in research are also encouraged to apply for REU (Research Experience for Undergraduates) summer programs.
Faculty research expertise includes genetics, molecular biology,ecology, conservation biology, and wildlife.  Students interested in research opportunities in these areas are encouraged to contact respective faculty members.