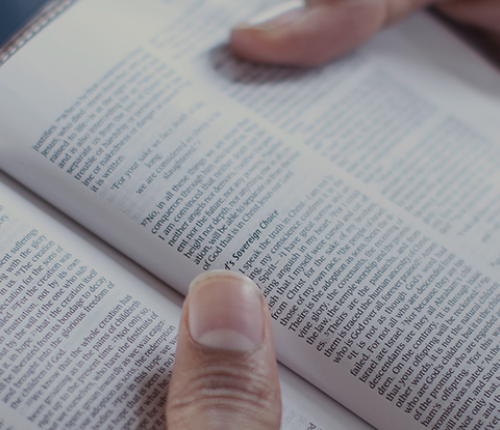 Christian Ministry
The Bachelor of Arts in Christian Ministries prepares you to assume leadership roles in churches, Christian schools, camps, para-church ministries, missionary organizations, and Christian publishing companies as well as pursue various avenues of graduate study. This program further allows you to grow your personal faith and dedication to servitude. The training and placement of tomorrow's Christian leaders lies at the heart of the Christian Ministries program.
Application and Admission
Steps to Apply for Admission:
1. Application - Contact an Admissions Advisor for your application package at 1.800.346.1017 ext. 461. They will be able to answer all your questions or help you start the application process. Or you can apply online at: online.sterling.edu
2. Transcripts - Contact your college registrar to send an official copy of your academic transcripts to:
Office of Admissions
Sterling College
125 W. Cooper
Sterling, KS 67579
Admission Requirements:
Previous college experience of at least 48 credits or your Associate's degree.
A cumulative 2.2 GPA in your college credits. (Note: Please speak with your Admissions Advisor about transferring credits to this program.)
Students are required to go through a pre-application interview before submitting an application for admission.
Note: Students who have not completed their Associate's degree must also provide their high school transcripts with their application.
Requirements
Core Requirements:                                                                                                                  Credits
GD1051
TM1045
TM1075
TM2485
TM2835
TM3055
TM3105
TM3923
TM4395
TM4995
Foundations of Servant Leadership
INtroduction to the Old & New Testament
Cross-Cultural Studies
Methods in Bible Study
Church HIstory & Mission I & II
Basic Christian Doctrine & the Holy Spirit
Philosophical Concepts & Christian Thought
Service Component
Ethics
Research Methods & Thesis
1
5
5
5
5
5
5
3
5
5
Requirements - Christian Ministries:                                                                                    Credits
TM2405
TM2745
TM3115
TH3385
Christian Education & Leadership
Missions & Theology of Religions
Worship: Theology & Trends
Youth Ministry
5
5
5
5
Requirements - Theology & Ministry:                                                                                   Credits
TM2155
TM2755
TM2315
TM4105
Old Testament Studies
New Testament Studies
Introduction to New Testament Greek I & II
History of Philosophy & Christian Thought
5
5
5
5
Total Credits                                                                                                                                        64
Sterling College reserves the right to make changes to this curriculum outline.
To Learn More
For more information on Christian Ministries or Theology and Ministry online program, including cost of attendance and financial aid information, call us toll free at (800) 346-1017 ext. 461 or email online@sterling.edu . 
Please click here to the Program Brochure in PDF format   
Please click here to the Ministries Brochure in PDF format