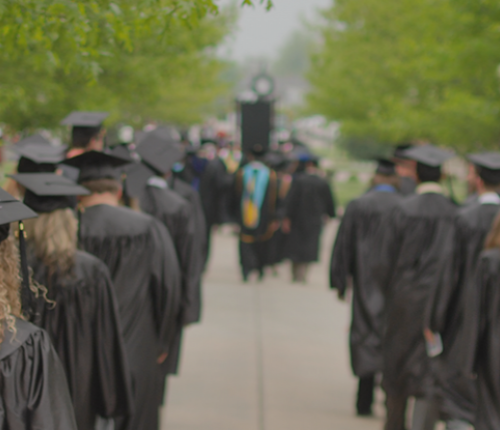 Commencement FAQ's
Please view the latest COVID-19 updates at this page:
https://www.sterling.edu/student-life/covid-19-information 
What do I wear to Commencement Weekend events?
We do not have a dress code for Commencement Weekend events. We want you to be comfortable. For those of you who want guidelines, business casual would be appropriate for all Commencement Weekend events. 
When is the Commencement ceremony?
The Commencement ceremony is Saturday, May 15, at 9:45 a.m.
Where is the Commencement ceremony?
The Commencement ceremony will take place on East Cooper Lawn. In the event of inclement weather, Commencement will be moved indoors to Gleason Physical Education Center. If the Commencement ceremony is being moved indoors to Gleason Physical Education Center, a decision will be made by 11 a.m. on Thursday, May 13, 2021, at which time, Sterling College will make an official announcement on the Sterling College website (www.sterling.edu). An email will be sent to all students and employees of Sterling College; flyers will be posted around the campus; and a post will be shared on Twitter (@ SterlingCLife) and Facebook (/Sterling College).
When do guests need to be in their seats for Commencement ceremony?
We encourage guests to be seated by 9:30 a.m. for the Commencement ceremony.
What if it's raining or snowing?
Please refer to our Inclement Weather Plan.
Where can I park Friday and Saturday for Graduation Weekend events?
We have reserved the parking lots north of Kelsey Hall, north of the Student Union, and east of Gleason Physical Education Center for Commencement Weekend guests. Dollar General has also offered their parking lot as additional space for our guests. Handicap Accessible parking has been reserved south of MCreery Hall and west of the Student Union. Please refer to our Campus Map for designated parking areas.
What is the seating arrangement for Baccalaureate? Commencement?
We are not having a Baccalaureate service this year. Commencement will be outdoors, weather permitting, on the East Cooper Lawn. Certain seating will be reserved for graduates and faculty. The remaining seats are available on a first-come, first-served basis.
What COVID precautions are in place?
Please social distance when possible, wear a mask, and consider bringing personal chairs/blankets that would help create more space.
Do graduates receive diplomas on Commencement Weekend?
No. Graduates will receive their diploma by mail no later than July 31, 2021, pending no financial holds. The class of 2020 has received theirs.
Can I get professional photos of my graduate?
Yes. Sundquist Photography will be taking photos of your graduate. A few days after the ceremony, you may go to www.sundquistphoto.com/Sterling and find the link to the photos and information on purchasing.
When do I pick up my cap and gown? (2021 Grads only)
Cap and gown distribution takes place the week of graduation. Undergraduate students must pay their $100 graduation fee/$150 for graduate students to the Business Office before picking up their cap and gown. Students may go to the Registrar's Office in Kelsey Hall to pick up their items Monday through Friday, 9 a.m. - noon and 1-4 p.m.
It is the responsibility of the 2020 graduates to bring their cap and gown with them. Extras will not be available.
I want to buy Sterling College gear. Where can I do so?
The Sterling College Bookstore will be open the week of graduation, Monday through Friday from 10 a.m. - 2 p.m. and on Saturday from 8-9 a.m. and promptly after graduation until 1:30 p.m. The Warrior Warehouse will be open 9 a.m. to noon on Saturday, May 15. This shop is located inside Gleason.