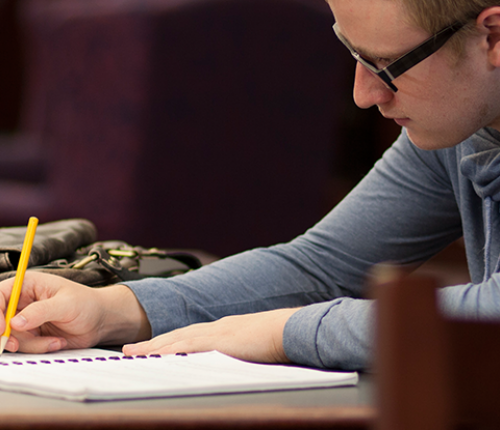 Interdisciplinary Studies
Concentrations for the Bachelor of Arts in Interdisciplinary Studies
Liberal Arts
Designed for students who desire to develop a deep appreciation for and understanding of a diverse set of disciplines by studying the arts, humanities and human culture, as well as building effective communication and critical thinking skills.
Sport Communication
The sport communication concentration is for students interested in pursuing a career in sport media. By combining courses in communication and media, sports management, and art and design, students will be equipped to work in collegiate sports information offices, media and/or community relations offices of both collegiate and professional sports, and as sport media personnel in either print or electronic media. Students will also be prepared to apply for graduate work in journalism.
Sport Writing
Focusing primarily on writing and editing skills as well as management and administrative issues relating to sport information, the sport writing concentration equips students to be highly proficient writers capable of producing articles, marketing or public relations materials for sport organizations.
Concentrations for the Bachelor of Science in Interdisciplinary Studies
Biological Mathematics
The biological mathematics concentration strives to provide students with an understanding of the connection between and application of mathematics to biology. Students will be prepared for graduate programs integrating the two fields such as mathematical biology, biostatistics and statistics.
Business Mathematics
Geared toward the reality that businesses must adapt to dynamic economic environments, this concentration equips students with a combination of math and business skills that are requisite for analyzing and addressing business-related issues from a quantitative perspective.
Business Ministry
The business ministry concentration combines a core of ministry preparation courses with a foundational business curriculum to equip students to serve ministries as well as create ministry opportunities within a business framework.
Criminal Justice Administration
This concentration is designed to equip students who are preparing to serve or are currently serving in the law enforcement profession to advance into leadership and administrative roles within the criminal justice system. This concentration includes courses from the organizational management major and therefore requires a few online courses.
Criminal Psychology
This concentration has been developed to provide an educational program for students who are equally interested in the fields of criminal justice and psychology. The concentration will prepare students for entry into the criminal justice system by providing a solid foundation in human behavior, communication skills, and criminal justice needed to succeed in this dynamic field.
Pre-Forensic Science
Students majoring in Pre-Forensic Science will be prepared for entry level laboratory work or graduate programs in forensic science. The major combines a strong core of natural sciences with courses in criminal justice. 
Pre-Nursing (Applied Science: Health Care Systems)
The Applied Science-Health Care Systems concentration prepares a student to complete a degree at Sterling College as they finish prerequisite courses required for a nursing program.
Wildlife Law Enforcement
By combining courses in Criminal Justice and Biology, this concentration provides students with the educational foundation necessary to begin a career as a Natural Resource Officer or other wildlife law enforcement career.