"Garden of Earthly Delights" Art Exhibit at Sterling College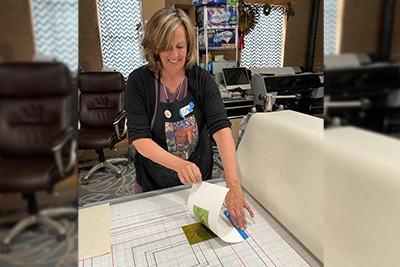 The Sterling College Art Gallery is hosting the art exhibit "Garden of Earthly Delights" for the month of February. Native Kansas artist Kathy Schroeder is the artist behind the exhibit. She has been teaching art classes at Sterling College since 2018.
Schroeder's artwork combines painting, drawing, printmaking, and bookmaking to create both two and three-dimensional works on paper. The imagery for her work is inspired by the people, history, and natural environment of Kansas. Her work is exhibited at the Carriage Factory Art Gallery in Newton and in local and regional exhibitions.
"The arts offer us a way to express our thoughts and feelings. Through the arts we tell the story of our time and place and discover the stories of other people and cultures. Art education is essential because it allows students an opportunity to express themselves, develop their creative potential and learn about the creative aspects of themselves, their community, and our civilization," said Schroeder.
Her exhibit "Garden of Earthly Delights" includes 18 prints and nine sculptural books. "Night Fly Flight" and "Flying off the Grid Over Kansas City, KS" are two solar prints included in the exhibit. "Don't Mess With Mother Earth: This is the Last Straw" is one of the sculptural books. Many of the pieces are also for sale. 
Schroeder was heavily involved in traditional printmaking early in her career but recently discovered solar printing – using steel plates covered in light sensitive polymer which hardens when exposed to sunlight. After attending a professional solar print workshop in Santa Fe in 2019, Schroeder said, "I came back excited to create prints for my show "Garden of Earthly Delights" and prepared to teach a new technique in my Sterling College Intro to Printmaking class."
"It's important for our students to see professional artists' exhibitions like this. And, in Kathy's case, when the professional artist is one of their own teachers, it makes the experience even richer," said Libby Reimer, assistant professor of graphic design.
Schroeder taught art at Hesston High School for 37 years before starting her college teaching career. Besides Sterling College, she has taught classes and conducted workshops at Hutchinson Community College, Bethel, Hesston, and McPherson Colleges. She is the president-elect of the Kansas Art Education Association. 
The Sterling College Art Gallery is in the Art & Media Center building at the corner of 8th Street and Washington in Sterling. The exhibition will be open to the public free of charge from 9 a.m. to 5 p.m. each weekday through February 28.  
Sterling College is a Christ-centered, four-year college located in Sterling, Kansas, with a mission to develop creative and thoughtful leaders who understand a maturing Christian faith. For more information, visit www.sterling.edu.