"Noises Off" takes the stage at Sterling College April 19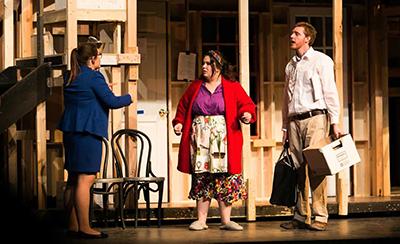 Eight doors and one window slamming, flying sardines, misplaced telephones, sabotage, back-stabbing and general mayhem galore all come together in only one thing: the now-classic stage comedy - "Noises Off."  A play-within-a-play "Noises Off" will open Thursday, April 19, bringing four performances of comedy to Sterling College. Audiences will see the inner workings of a theater production in this backstage farce by Michael Frayn, as a traveling company debuts a British farce. "Noises Off" will begin at 7:30 p.m. April 19-21 and at 2 p.m. April 22 in Culbertson Auditorium in Spencer Hall on the campus of Sterling College.
"'Noises Off' is a hilarious, laugh-out-loud type of comedy. I think the play is unique because it incorporates many types of humor. The script itself is about the rehearsal and production process of a play called "Nothing On," in which everything that could possibly go wrong does. The audience watches the play go to shambles from behind the scenes and from the front. Our two-story set revolves for the audience to see the front and back so that's a really neat aspect that [assistant professor] Stephen English has worked hard on," said theatre student Elle Crook.
Act One takes place during the last rehearsal just hours before the opening night performance. Act Two reveals the goings-on backstage during a performance and the final act takes place as the play-within-the play literally falls apart in front of the audience.
Written in 1982, "Noises Off" is a three-act show that includes slapstick comedy, missed cues, friction between actors, vanishing props, a lot of door slamming and flying sardines. Alumnus Greg McGlynn '87 directed the play in 1988 at Sterling College, and the Sterling Community Theatre Troupe performed the show under the direction of Dennis Dutton in 1996.
Sasha Hildebrand, director of "Noises Off," said that the play is the funniest comedy she's ever read or worked on. She has performed in the play twice, once in high school and once at the Texas Shakespeare Festival. While she worked at the Chicago Academy for the Arts, she directed the play with fellow Sterling College alumnus Ben Dicke '01.
"It's also one of the most difficult plays to do because of the physicality –  there is a real style to it. It is a true ensemble piece and requires everybody working perfectly in sync with each other to make it work," said Hildebrand.
"[The show] has more props than any show I've ever come across and the set is probably one of the most complex sets ever because it has to completely revolve," said Hildebrand.
Ticket prices are $10 for adults and $5 for children, students and seniors. Tickets can be purchased in the box office the night of the performance, beginning at 6:30 p.m. Performances begin at 7:30 p.m. and doors opening at 7 p.m. On Sunday, the performance will begin at 2 p.m. Doors open at 1:30 p.m. and the box office opens at 1 p.m. Parental consideration is advised due to the slight sexual circumstances.
The cast of "Noises Off" features: Katie O'Brien of Upland, California, as Dotty/Mrs. Clackett; Alyssa Hershey of Wichita, Kansas, as Brooke/Vicki; Courtney Swanson of Corona, California, as Belinda/Flavia; Kenzie Galloway of Sedgwick, Kansas, as Poppy; Bobby Foster of Sterling, Kansas, as Lloyd; Matt Scharff of Tonganoxie, Kansas, as Gary/Roger; Will Dutton of Sterling, Kansas, as Frederick/Phillip; Seth Rogers, of Wichita, Kansas, as Selsdon;  and Wes Lowrey of Topeka, Kansas, as Timothy. For some performances, Brooke/Vicki will be played by JoJo Maxwell of Corona, California, and Poppy will be played by Becca Winsky of Salina, Kansas.
Sterling College is a Christ-centered, four-year college located in Sterling, Kansas, with a mission to develop creative and thoughtful leaders who understand a maturing Christian faith. For more information, visit www.sterling.edu.