Alumni Awarded for Service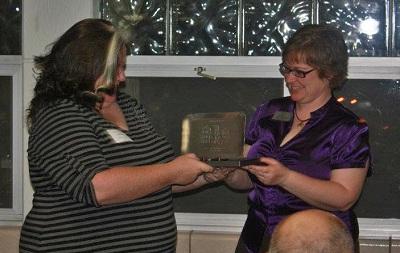 Wednesday, November 2, 2011
Six individuals were honored during the homecoming festivities at Sterling College for their talent, volunteerism, or contribution and loyalty to Sterling College. Two alumni, Sasha Hildebrand and Dr. George Stickel, were the recipients of the annual Alumni Award and Alumni Citation Award. Both awards are given to alumni who have excelled in their careers, have exhibited service to society, and loyalty to Sterling College.
In a separate ceremony, three alumni and one professor were inducted into the Sterling College Fine Arts Hall of Fame. The new members, Dr. Dennis Brewer, Mike Sullivan, Leo Lawless, and Jana Wagerle, have displayed excellence in the areas of theatre, music, art, or communications.
Sasha Hildebrand '03 was awarded the Sterling College Alumni Award for excellence in her career, volunteerism, and dedication to Sterling College. Hildebrand currently works as an admissions counselor at Sterling College and is highly involved in theatre productions at the College and surrounding high schools. She is well-known within the Kansas high school theatre circle for her costume design and passion to help students further their theatre interests. She has won three "Jester Awards" for her costume design. This award is presented by the Music Theatre of Wichita, which recognizes outstanding achievement in high school theatre productions across the region. Hildebrand also uses her knowledge and love of theatre to work as an adjudicator for the Kansas Thespian organization, and presents at their state conference. Hildebrand is involved in her home church in Stafford, Kan., and the Sterling Methodist Church. She is dedicated to her faith, her profession and teaching others. 
This year's Alumni Citation Award was presented to Dr. George Stickel '71. Stickel is an accomplished education administrator, beginning university degree programs in several unreached locations. He has started five university degree programs in prisons in Illinois, including the replacement prison for Alcatraz. He pioneered university course delivery in Malaysia, has taught at Northwestern College in Iowa, and now directs the STEM teacher education program at Southern Polytechnic State University. He recently received a large grant to start a new teaching program called U-Teach. Stickel, however, will still claim that his most significant accomplishment is raising his three daughters. Stickel is committed to his faith, his family, and his profession.
The remaining four recipients were inducted into the Sterling College Fine Arts Hall of Fame. The Fine Arts Hall of Fame is sponsored by College Alumni of Sterling Theatre (CAST), a non-profit, alumni-based organization that supports the fine arts at Sterling College. It was established in 2009 to recognize individuals associated with Sterling College who have excelled in the areas of theatre, music, art, and communication, and new members are inducted into the Fine Arts Hall of Fame bi-annually in three categories: Alumni, Patron and Mentor. Alumni who have been out of school for at least five years and have distinguished him/herself in the area of fine arts are considered to be an Alumni Fine Arts Hall of Fame member. The Patron category considers community volunteers, who have dedicated themselves to the betterment of the fine arts at Sterling College, and the Mentor category includes retired Sterling College staff or administration who have supported, inspired, and motivated the Sterling community in the fine arts.
The Alumni inductee, Dr. Dennis Brewer '71, has practiced in fine arts since his time at Sterling where he participated in three musicals, played trumpet in the college band and sang in the College choir. Upon graduation, Brewer has earned his Ph.D. in mathematics from the University of Wisconsin, was faculty at the University of Arkansas where he taught and did research, and is now administration at the University. He has continued using his musical ability by participating in opera workshops and singing with university choral groups and with the local symphony.
The second Alumni inductee will be found outside of the theatre. Mike Sullivan '75 has been representing Sterling College in the realm of advertising. As a former Senior Vice President and Creative Director for the world's largest independent ad agency, Sullivan has over 30 years of experience in generating creative and effective advertising campaigns. He now owns his own company, Halo Creative Group, which focuses on bringing his mainstream expertise to the non-profit and Christian arena. He has produced digital curricula and TV and radio spots for Zondervan Publishing, Presbyterian Media Mission, the Christian Church-Disciples of Christ, Feed the Children, Volunteers of America, Food for the Poor, Kids Hope USA, and many others.
Leo Lawless was posthumously added to the Sterling College Fine Arts Hall of Fame in the Mentor category for his dedication to the arts at the College. Lawless served as a pianist at Sterling for 40 years, playing in chapels and recitals. He also taught piano for many years and was repeatedly asked to be a judge for the National Piano Teachers Guild. He was known for his skill, sense of humor and his love for the students at Sterling College. Lawless passed away in 1973.
Jana Wagerle '80 was also inducted posthumously into the Sterling College Fine Arts Hall of Fame, Alumni category, for her skill in costume design. During her time at Sterling, Diane DeFranco-Kling trusted Wagerle to design costumes for two of Diane's productions – the musical "The Boy Friend" and Shakespeare's "Twelfth Night." After graduating from Sterling, Wagerle obtained her MFA from the University of Missouri (Kansas City), and worked as the costume designer and seamstress at the Kansas City Repertory Theatre. Wagerle also participated behind the scenes in the 1993 alumni production of "The Glass Menagerie" by designing the costumes. Wagerle recently passed away in July of 2010.